Despite Korean diagnostic companies pinning high hopes on monkeypox as a new growth engine after their big success during the Covid-19 pandemic, industry watchers are expressing doubt that their expectations would turn into a reality.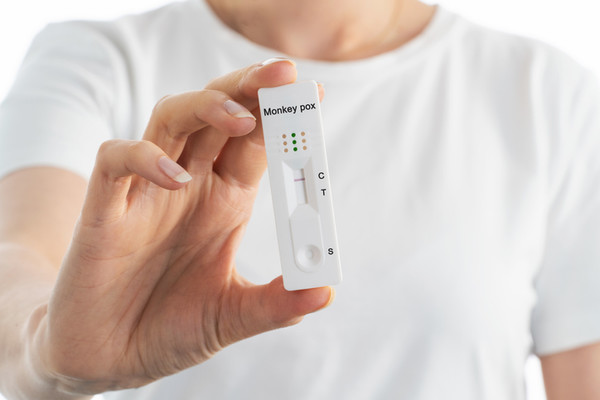 The number of monkeypox infections has rapidly increased worldwide, with the global caseload surpassing 10,000 in two months after the U.K. confirmed the first monkeypox case outside Africa on May 6.
According to Our World in Data, an international statistical site, the number of confirmed cases of monkeypox worldwide stood at 10,527 as of Tuesday. Korea also confirmed its first monkeypox case on June 22 in a 34-year-old male who returned from Germany.
Against this backdrop, many Korean diagnostic companies that had enjoyed revenue growth by developing Covid-19 diagnostic kits in the earlier days of the pandemic have been quick to release monkeypox diagnostic kits to solidify their image as global leaders in the field and obtain a new revenue source.
For instance, Seegene, an in vitro diagnostics company, has developed the Novaplex MPXV Assay, a diagnostic reagent that can diagnose monkeypox in 90 minutes. Seegene is preparing to export the product to European countries where monkey smallpox is spreading.
Bioneer has developed the AccuPower Monkeypox Detection Kit, a diagnostic kit that can extract DNA from patients suspected of having monkeypox and show results within 90 minutes with high sensitivity. The product is compatible with Bioneer's diagnostic analysis device, Exicycler 96 V4. In addition, the company plans to establish a foothold in Europe armed with the CE (Conformite Europeenne) certification.
Genes Lab, a subsidiary of GC Holdings, has also developed a diagnostic kit that can detect the Orthopoxvirus Genus, to which the monkeypox virus belongs, and show results in about 70 minutes.
Wells Bio, a subsidiary of Access Bio, and Genematrix have jointly developed a diagnostic kit for monkeypox.
Other diagnostic kit companies that had gained fame during the Covid-19 epidemic, including SD Biosensor, Humasis, PCL, and Sugentech, have reported speeding up the production of prototype diagnostic kits.
However, industry watchers expect that local diagnostic kit developers will end up disappointed.
The industry insiders point out that given the already available vaccines and therapeutics, the low possibility of an outbreak, and low technical barriers, it will be difficult for Korean companies to be competitive in the global market.
"Monkeypox has very weak transmission power compared to smallpox or Covid-19," Lee Jae-gap, an infectious disease professor at the Hallym University Gangnam Sacred Heart Hospital, said to Korea Biomedical Review on Thursday. "Monkeypox is unlikely to create a situation like the Covid-19 pandemic."
Financial experts agreed.
"Frankly, the medical community sees that monkeypox is unlikely to spread like Covid-19, given that there is already a vaccine and a treatment for the virus," said Lee Jun-soo, an analyst for Prophet Asset Management. "The development of the diagnostic kits seems to be more of a performance to show off the technological prowess of Korean diagnostic companies rather than to generate revenue."
Lee also criticized that some companies are approaching it as a way to raise stock prices when the global stock market is undergoing turmoil.
Daishin Securities analyst Han Song-hyup also advised investors to take a cautious approach.
"As monkeypox is spreading in Europe and North America, fear of a new infectious disease is rising," Han said. "However, while there may be opportunities for additional sales of diagnostic kits abroad, investors need to take a conservative approach as there is a need to determine whether there will be an explosive demand similar to that of the Covid-19 pandemic."
Copyright © KBR Unauthorized reproduction, redistribution prohibited