The Seoul National University Hospital (SNUH) said Thursday that it launched a full-fledged study to develop digital treatments for abnormal behaviors and problems linked to autism spectrum disorder.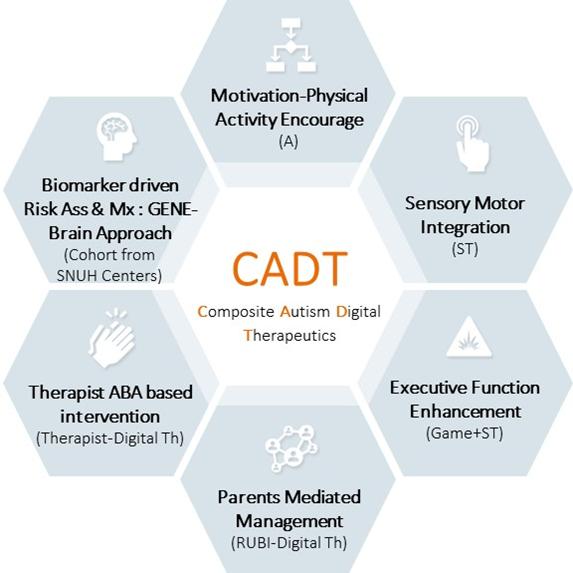 Under the auspices of the Ministry of Science and ICT, the hospital will push the project using about 4 billion won ($3.04 million) to develop digital treatments to alleviate problematic autism behaviors. Therefore, SNUH expects it to contribute greatly to solving the current therapeutic difficulties in the future.
Autism spectrum disorder is a neurodevelopmental disorder that has doubled since 2010, affecting 31,000 Koreans in 2020, with increasing trends worldwide. Its characteristic symptoms include difficulties forming social relationships, problems with emotional interaction, repetitive behavior, and limited attention. Genetic and environmental factors cause this disorder. However, recent reports also suggested it may be responsible for abnormalities in the structure and function of the social brain.
However, there are difficulties in treating and caring for autism spectrum disorder. It's because drug treatment to correct abnormal and problematic behavior is likely to have side effects if prolonged, and applied behavioral analysis (ABA)-based treatment is expensive. Furthermore, treatment institutions are also concentrated in specific areas, with restrictions on their use.
Against this backdrop, a SNUH team led by Professor Kim Bung-nyun of the Children and Adolescent Psychiatry Department has begun developing "autistic digital treatments" to help more patients. The researchers expect to develop and complete digital treatments centered on evidence and effectiveness by December 2024.
The researchers aim to develop an extended reality (XR)-based physical activity-promoting treatment that relieves sensory abnormalities and obsession, a smart toy-based treatment that enhances space-time integration ability and execution capabilities, and mobile game-based cognitive-behavioral therapeutics that combine behavioral inhibition and alleviate homologous behavioral obsessions.
The hospital also plans to develop a parent-mediated ABA cognitive behavior therapy training app and a therapist-led ABA-linked digital therapy app.
SK Telecom, Omni C&S, EcoInsight, Creamo, DolbomDream, Emotiv, Airpass, and Dongguk University's Artificial Intelligence Industry-coupled Cooperation Center will also participate in this study.
"The digital treatment for autism spectrum disorder will supplement drug and behavioral treatment models," Professor Kim said.
Copyright © KBR Unauthorized reproduction, redistribution prohibited