Former Yonsei University Professor Sohn Myong-sei, who served as director of the Health Insurance Review and Assessment Service, has taken office as the second chairman of the Research Investment for Global Health Technology (RIGHT) Fund.
RIGHT Fund is an international health research fund established in July 2018 in Korea through public-private cooperation among the Korean government, life science companies, and international funding organizations, to promote global public health.
The fund aims to make the most of Korea's healthcare technology to solve health inequality problems in developing countries by supporting the research and development of vaccines, treatments, diagnosis, and digital health technologies necessary to respond to new and endemic infectious diseases in developing countries.
To contribute to global health promotion by developing technologies necessary for developing countries, the fund requires a leader who has accumulated partnerships with governments, social groups, and various private and public sector organizations and the ability to predict future technologies. The organization has selected Sohn as the best man for the position.
Chairman Son has built his expertise in health policy and international health for nearly 40 years.
He has served in various positions, such as the president of the Asia-Pacific Academic Consortium for Public Health (APACPH), vice-chairman of the executive board of the World Health Organization (WHO), special assistant to the UNAIDS Program, member of the UNESCO's (United Nations Educational, Scientific and Cultural Organization) International Bioethics Committee (IBC), president of the Korean Academy of Health Policy and Management, special advisor to the Minister of Health and Welfare, a member of the WHO International Health Regulations (IHR) Revision Committee, and a member of the Ban Ki-moon Foundation for a Better Future.
Korea Biomedical Review has met with Sohn, who stressed that RIGHT Fund's R&D-type official development assistance (ODA) business would help Korea raise its reputation and listen to its future visions in running the organization.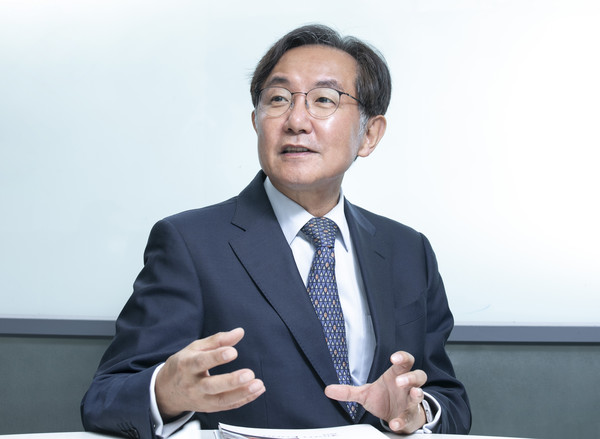 Question: Congratulations on becoming the chairman of the RIGHT Fund. What made you accept the offer?
Answer: After the first chairman of RIGHT Fund resigned, the fund offered me the chairman position. I believe they offered me the post because of my 40 years of experience in partnerships with governments, social groups, and several private and public sector organizations. I accepted the proposal, hoping that my experiences at home and abroad could help present the right direction for Korea through the RIGHT Fund.
RIGHT Fund is an institution that provides funding for infectious disease researches that contain Korea's strengths and innovations to improve international healthcare.
However, while many believe that such institutions should be in Korea, people seem hesitant to allocate resources to such institutions. I want to play a role in improving such perceptions.
Korea has failed to make an international contribution congruous to its national power.
Suppose the nation shares the various strengths accumulated over the years, such as technological capabilities and product production capabilities. In that case, I think it will help both Korea and developing countries, also increasing local healthcare status.
Q: As a former physician, what do you think your strengths will be as chairman?
A: In addition to having a good understanding of healthcare in general, doctors have expertise in a certain field.
Since I have also been working in the health policy and international health sector for nearly 40 years, I believe I can play a role in predicting how the technology required for global health will advance.
I can use my predictive ability for designing the future of the organization and cooperate with the government.
In the global health sector, I will strengthen the connection between domestic and overseas institutions by establishing links with world-class industry-academia-research, product development partnerships, and international organizations to develop their capabilities quickly.
Q: What is your objective evaluation of the RIGHT Fund?
A: RIGHT Fund conducts R&D-based ODA projects. Instead of being an ODA that directly delivers treatments or vaccines, the fund supports the development of products that developing countries can directly use.
The ODA projects' core theme is "How to have a real impact on the lives of the beneficiary countries."
After Korea entered the second basic plan for international development cooperation in 2016, it conceived the current RIGHT Fund model as a more efficient ODA measure.
The country believed that rather than adopting in-kind support methods, supporting the development of new life science technologies, such as vaccines and treatments, will have a long and lasting impact.
Therefore, RIGHT Fund is the best ODA support method that uses Korea's superior healthcare technology.
Q: Your various experiences in other global organizations, such as the WHO, seem to have played a major role in getting this job. What kind of role do you want to play during your tenure with such a wide range of experience?
A: As RIGHT Fund is an international health research fund based in Korea to promote global health, I believe that my various activities in the international healthcare field played a big role in my appointment as the chairman.
Using my experience, I will help RIGHT Fund fulfill its mission of contributing to global health promotion by utilizing Korea's innovation and leadership to discover and develop technologies necessary for underdeveloped countries.
Q: Although the Covid-19 pandemic is not over yet, many health experts have stressed the need to prepare responses for new infectious diseases. What role does RIGHT Fund intend to play in this regard?
A: In addition to endemic diseases in developing countries, RIGHT Fund supports the development of vaccines, treatments, and diagnosis necessary for responding to new infectious diseases such as Covid-19, and digital health technology that aims to solve the lack of medical resources in developing countries.
Therefore, it is necessary to expand RIGHT Fund's research support business further to bolster technology development in response to the current Covid-19 pandemic and any other future infectious disease pandemics.
RIGHT Fund is also supporting funding for research on developing seven technologies necessary to respond to Covid-19. These technologies include research on developing a mobile diagnostic platform for Covid-19 using time-resolved fluorescence technology that can improve diagnostic accuracy and a pouch-sized Covid-19 onsite molecular diagnosis platform.
I plan to strengthen support measures further so that these studies can go on with few problems.
Q: What role do you think Korean companies can play in ending the Covid-19 pandemic?
A: Korea's Covid-19 diagnostic kit will play a key role in ending the Covid-19 pandemic along with vaccines and treatments. Even today, Korean companies are contributing to strengthening the international defense system by providing faster and more accurate diagnostic kits.
Also, Korean companies such as SK Bioscience and Genexine are actively working on developing a Covid-19 vaccine.
Since Covid-19 is a novel virus, the starting point of vaccine development worldwide was zero-based. Korea is developing a vaccine for Covid-19 at a very rapid pace, with candidates entering clinical trials in less than a year since the outbreak.
Korea also has global strength in process technology development and has an excellent infrastructure for vaccine mass production. Therefore, I believe that Korean companies can play a big role in solving the vaccine supply and demand problem caused by shortages.
RIGHT Fund plans to support such roles actively.
Q: As an international health expert and chairman of RIGHT Fund, what would you suggest as the RIGHT Fund's direction to move forward?
A: RIGHT Fund is a public-private international health research support platform that can promote global health with Korea's innovative technologies.
It is very meaningful that a public-private partnership international health research support platform that discovers and utilizes the strengths and innovations has taken root in Korea.
We will contribute to international health and national quarantine by further enhancing RIGHT Fund's research support projects.
Copyright © KBR Unauthorized reproduction, redistribution prohibited