Diplomatic chiefs talk about Korean healthcare industry and bilateral cooperation ⑤ James Choi, Australian Ambassador to Korea
Korea's medical and pharmaceutical industries have reached a global level over the past years. Such exponential growth has made the country one of the major players in the world. Against this backdrop, Korea Biomedical Review has decided to hear opinions from foreign mission chiefs here on how they view the country is doing concerning healthcare system, research & development, and international cooperation. Through this series, this paper plans to gather foreigners' views on Korea's biomedical sector and pharmaceutical industry, listening to their suggestions and advice. -- Ed.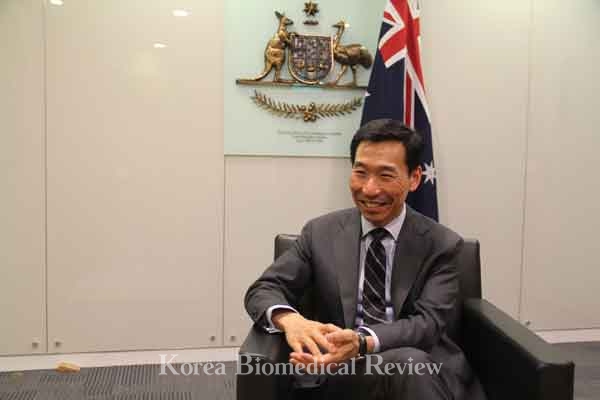 ​​​​​​James Choi, the Ambassador of Australia to the Republic of Korea, has been in Korea since December 2016. As the first Australian ambassador of Korean descent, he has efficiently promoted healthcare cooperation by introducing various companies from both countries in the medical sector. However, Ambassador Choi feels that Korea only focuses on the U.S. and EU when it comes to medical advancement. He stressed that Korea has yet to realize the full potential of Australia's globally competitive medical expertise.
In an interview with Korea Biomedical Review, Ambassador Choi emphasized that one of his primary goals as Ambassador is to raise the profile of Australia's status in the medical sector and share the country's world-class healthcare system, businesses, and knowledge in bilateral cooperation with Korea.
Question: What do the Australian people think of Korea's health system? And also what impression did you have during your visit to a Korean hospital?
Answer: Personally I think the Korean health system is excellent. The standard of service and the quality of treatment I received was outstanding. Every Australians that I have spoken to so far also found Korea's health system and medical facilities to be distinguished. I have been to Kangbuk Samsung Hospital and (I was impressed at) the speed of how they addressed my concerns and the way they handled the triage. And the treatment process was top notch. The embassy also has a good relationship with other hospitals such as the Seoul National University Hospital and Yonsei Severance Hospital.
Regarding Australians that receive treatment here in Korea, the embassy does not have a role in assisting individual citizens seeking hospital healthcare. However, the impression I received after speaking to Australians here in Korea was that they had no problems accessing hospital treatments. I have not heard any complaints yet.
Q: What are some of the bilateral partnerships regarding healthcare particularly among research institutions?
A: There are already many bilateral partnerships between the two countries. Most recently, Professor John Mattick, the former executive director of Garvan Institute, which is one of the world's leading genomic research centers, visited Korea to pursue opportunities with Korean counterparts in genomic sequencing and targeted therapy.
Also, AusBiotech, the Australian Biotech industry peak body, signed a memorandum of understanding (MoU) with Korea Health Industry Development Institute in 2013 to strengthen the collaboration between the two countries.
Since the agreement, Australia, and Korea have been exchanging trade missions to BIO Korea and AusBiotech conferences respectively. Through these missions, the two countries have strengthened collaboration in many areas, including clinical trials, regenerative and precision medicine.
This year, eight Australian companies plan to showcase Australia's life science industry, including clinical trials, digital health and research capabilities at BIO Korea 2018 (held from May 9 to May 11 in Seoul).
M3DICINE, an Australian medical device design company, has also signed a cooperation agreement with KT to distribute Stethee and remote telemedicine projects in Korea. Stethee is an AI-enabled wireless stethoscope which analyzes heart and lung sound to build up a biometric signature fitted for a single individual.
Regarding Korean companies in Australia, CHA Biotech signed an agreement to acquire a 65 percent stake in City Fertility Centre (CFC), a fertility clinic in Australia. The company invested a total of 19.04 billion won ($17.8 million).
Under the agreement, the CHA Biotech will directly manage and operate the seven clinics in major Australian cities such as Sydney, Brisbane, and Melbourne.
We also connect Korean hospitals, such as Asan Medical Center and SNUH, with Australian medical companies or institutions.
Our interests are in building such partnerships with Korean counterparts and generate synergy between Korea and Australia. Such synergy can bring a variety of research and commercialization opportunities.
Q: How would you rate the cooperation between the two countries?
A: It's at a nice stage, but much more can be done in areas such as international collaboration and commercialization. One of the subjects that I would like to highlight is that Australia's has a rich history of research on medicine. We've had Nobel Prize winners concerning immunology, cancer, and research on chromosomes. Australia has also made many medical and biotech discoveries such as Gardisil and a vaccine for the papillomavirus.
However, although we are big on research and development (R&D), we are not so good with commercializing products derived from our R&D phase. Australia has an underdeveloped culture for biomedical and biotechnology commercialization, and we are working towards brokering a linkage between researchers and industry.
I think this is an important area Korea can help as they are well-known for their commercialization strategies.
Also, one of the most critical policies in both countries is affordable healthcare. Both Korea and Australia is aging rapidly. It would be optimal if we can share the strategies in coping with the aging population and maybe even the solution.
Regarding what Australia can offer, Australia is very well-known for our telemedicine.
With the aging population, healthcare budget continues to rise, and this is also a challenge Australia faces. The Australian government went into telemedicine to counter the rising budget.
We would be happy to share our experiences and mistakes we've come across in implementing our telemedicine system.
Australia also has a robust infrastructure and network for clinical trials for any Korean companies that want to conduct clinical trials.
Q: Can the Australian embassy help promote cooperation between the two countries?
A: The Australian embassy is very keen on promoting bilateral cooperation opportunities. We have Australian companies that come in regularly to discuss collaboration with counterparts. We are well aware of Korea's capabilities in R&D as well. It's just a matter of finding those niche areas where interests overlap so we can work together from research to commercialization. We also have Australian Trade and Investment Commission (AUSTRADE) here at the embassy. The commission matches Australian companies with Korean companies, while also promoting trade and business opportunities. So if any Korean companies seek a partnership with Australian companies, AUSTRADE can provide the necessary introductions and information to allow such matchmaking to occur.
Q: Is there anything you would like to add or say to the Korean government or the healthcare industry in Korea?
A: I think the prospect for further collaboration with Australia is quite encouraging.
As I mentioned before Australia has a rich and long medical research history and has been at the forefront of some fundamental discoveries that have changed the world. However, I don't think such aspects are recognized here in Korea. We also have world-renowned research institutes such as the Garvan Institute, Walter and Eliza Hall Institute, Victor Chang Cardiac Research and Australia Stem Cell Centre.
So I am very keen on raising the profile of Australia's status as a world leader in medical research and promoting any future opportunities for bilateral cooperation.
Copyright © KBR Unauthorized reproduction, redistribution prohibited