Diplomatic chiefs talk about Korean healthcare industry and bilateral cooperation③Fabien Penone, Ambassador of France to Korea
Korea's medical and pharmaceutical industries have reached a global level over the past years. Such exponential growth has made the country one of the major players in the world. Against this backdrop, Korea Biomedical Review has decided to hear opinions from foreign mission chiefs here on how they view the country is doing concerning healthcare system, research & development, and international cooperation. Through this series, this paper plans to gather foreigners' opinions on Korea's biomedical sector and pharmaceutical industry, listening to their suggestions and advice. -- Ed.
Since he took the post in 2015, French Ambassador to Korea Fabien Penone has emphasized bilateral partnerships between the two countries in various areas, including healthcare. In an interview with Korea Biomedical Review, Ambassador Penone also compared the healthcare systems of France and Korea and the cooperative efforts between the two countries in the sector. Particularly the top French diplomat in Korea focused on the strengths of the French healthcare system and how that plays into bilateral partnerships in the biomedical field.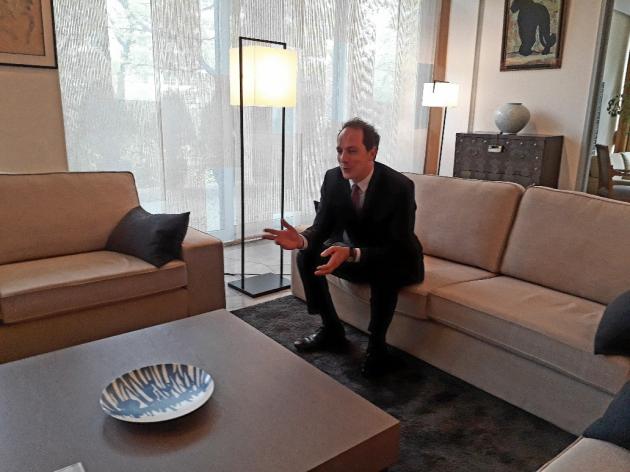 Question: What is the French healthcare system like?
Answer: There are a lot of opportunities in French health industry. France is the fifth largest global market for the healthcare recording annual growth of 5 percent, and one of the most innovative markets in the world. It is the fourth largest producer of medical technologies and the third largest country for biotechs. It conducts 10 percent of the world's clinical trials and has Europe's number one healthcare and medical research institute called INSERM.
The French healthcare system is also known to be one of the best in the world. Our country is ranked seventh for life expectancy at birth and a leading OECD country regarding healthcare access. Access to community-based healthcare in France is reputed to be of high quality around the world. It relies upon 3,000 healthcare facilities, making France fourth among OECD countries in the number of hospitals per capita with nearly 47 hospitals per million inhabitants. France also has more than 353,000 medical professionals, which amounts to around three doctors per 1,000 people.
French healthcare includes the largest European hospital group called AP-HP that encompasses 39 public hospitals treating nearly 10 million patients. Public and private spending makes up 1.5 percent of GDP and ranks third in Europe. Household medical costs are significantly lower than the OECD average in France.
Medical research is also very dynamic in France and relies on a network of 32 university hospitals that have accomplished 116 world firsts since 1958. Four French research bodies -- CEA, CNRS, INSERM, Institut Pasteur -- have 1,700 clinical trials. Around 30 percent of clinical trials are performed through CROs to be ranked among the world's top 15. Thirteen French doctors and scientists have won Nobel Prizes of Medicine.
Q: Are there any bilateral partnerships regarding healthcare particularly among research institutions?
A: For partnerships between research institutions, long-term collaborations between France and Korea have been going on since 2004 with the creation of the Institut Pasteur Korea (IPK) in Pangyo Techno Valley, just south of Seoul.
IPK was launched in collaboration between the Institut Pasteur Paris and the Korea Institute of Science and Technology (KIST) and supported by the Ministry of Science, ICT and Future Planning. The research institute, a part of 33 institutes of the Institut Pasteur International Network, is dedicated to the field of infectious or chronic diseases such as tuberculosis, respiratory syndromes, and hepatitis B and C. It is also the first research institute in Korea to be equipped with a level 3 laboratory. As a hub institution, IPK plays a vital role in the Institut Pasteur International Network by expanding Korea's collaborative R&D-based research projects with global alliances.
Q: What about bilateral healthcare cooperation in academia?
A: There are several cases of collaboration between universities, laboratories, and research bodies. Korea's National Cancer Center, France's Centre National de la Recherche Scientifique (CNRS), Blaise Pascal University, and the France-Korea Particle Physics and e-science Laboratory are collaborating on biomedical applications. The academic group financed 20 healthcare projects between 2013 and 2017 within the framework of the French-Korean program Partenariat Hubert Curien (PHC) Star program.
Young Korean and French radiologists can also study in both countries thanks to the program supported by the French Society of Radiology and the French company Guerbet.
In this context, Business France, and five major French healthcare companies -- bioMérieux, Guerbet, Ipsen, Sanofi, and Servier -- launched "French Healthcare Korea" in 2015 to promote scientific and academic exchanges between the two countries in the healthcare area. The nonprofit organization aims to contribute to the development of relations between Korean and French scientific communities, promote Korea's health industry in France, and strengthen French presence in Korea.
Doctors and medical associations of the two countries also have dialogues on a regular basis. For example, the Korean Association for the Study of the Liver (KSAL), its French counterpart AFEF, Korean Society of Abdominal Radiology (KSAR) and the French Society of Abdominal Imaging (SIAD) held a joint symposium in Seoul in October last year.
Q: What about the pharmaceutical industry?
A: There are some promising cooperative examples in the pharmaceutical industry. In 2017, exports of French pharmaceutical products to Korea increased 32 percent from 2016 and reached 182 million euros, representing close to 4 percent of total French exports to Korea. Interestingly, during the same period, exports of Korean pharmaceutical products to France more than doubled, increasing 123 percent from 26 million euros in 2016 to 58 million euros in 2017.
All major French pharmaceutical companies like Sanofi, Servier, Ipsen, Guerbet, and Biomerieux have invested in Korea with several thousand local staff members engaged in marketing, product development, and clinical trials, among others. Similarly, Korean companies, notably in biosimilars, like Celltrion and Samsung Biologics, have increased sales in the French market and are ready to further invest in France.
Q: What areas need improvement from your point of view?
A: France is ready to work more closely with Korea in the field of health. First, I think experts of the two countries should exchange their perspectives on upcoming healthcare issues. Developing relationship and sharing best practices between France's and Korea's scientific and academic communities are valuable.
Second is to swiftly develop med-tech and e-health in both countries and around the world. This will undoubtedly lead to a reinforcement of the France-Korea partnership and the development of new innovative products. New trends in healthcare such as AI and innovative technologies are opening up new research and development possibilities regarding alliances and synergies.
The silver economy has great growth potential in the two countries. In France, the market was worth €92 billion in 2013. Revenues are forecast to hit €130 billion by 2020 with an average annual growth rate exceeding 5 percent.
According to a 2015 survey by Odoxa, 67 percent of the general public and 81 percent of French doctors thought connected healthcare offered opportunities for better quality treatment, while 23 percent of patients with chronic illnesses said they used consumer connected devices.
Q: Do French nationals face any difficulties with Korean healthcare?
A: More than 3,000 French nationals are registered with the French Consulate in Korea but the total number of French people living in Korea is estimated to be between 5,500 and 6,000 people with numerous students.
Regarding healthcare, French people living in Korea often mention quality service. These include health follow-ups for dentistry, orthodontics, or ophthalmologists. Also, several hospitals in Seoul and main cities have health centers dedicated to helping foreign patients. Doctors also speak several foreign languages.
For foreigners, however, two main difficulties remain. First, when French people in Korea want to consult a psychologist or a psychiatrist in Korea, as they would in France, but getting real help from a follow-up is difficult. This is because there are fewer specialists here than in France and the language difference serves as an obstacle. Nevertheless, things are improving, and hospitals in Seoul are now offering specific locations for consultation, by video conference or telephone, with French psychologists based in France. Second, some French people who need blood transfusions may face difficulties due to blood types that are rarely found in Korea or temporary blood supply shortages.
Copyright © KBR Unauthorized reproduction, redistribution prohibited