Diplomatic chiefs talk about Korean healthcare industry and bilateral cooperation①Marco della Seta, Italian Ambassador to Korea
Korea's medical and pharmaceutical industries have reached a global level over the past years. Such exponential growth has made the country one of the major players in the world. Against this backdrop, Korea Biomedical Review has decided to hear opinions from foreign mission chiefs here on how they view the country is doing concerning healthcare system, research & development, and international cooperation. Through this series, this paper plans to gather foreigners' views on Korea's biomedical sector and pharmaceutical industry, listening to their suggestions and advice. -- Ed.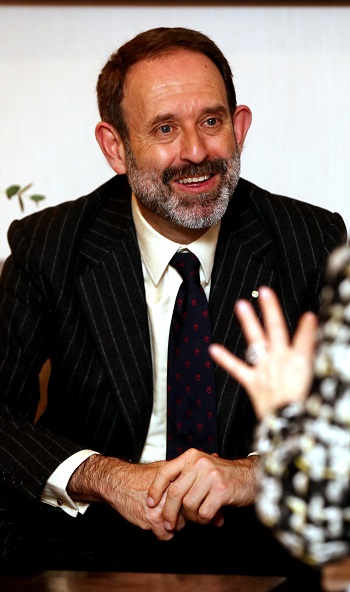 Marco della Seta, the Ambassador of Italy to the Republic of Korea, has been in Korea since August 2015.
He has worked towards promoting healthcare cooperation with Korea and Italy during his stay in Korea.
He emphasized bilateral cooperation between researchers and academics on topics of immuno-oncology, pharmaceutical substances, vaccinology, and infectious diseases noting a personal interest in precision medicine, in a recent interview with Korea Biomedical Review.
"I would say vaccinology, infectious diseases, and precision medicine are hot topics. Personally, precision medicine is where I see more potential, but it's up to the people. This is not a top-down approach - it's a bottom-up process- that is important," Marco said.
The Italian Embassy has - under the guidance of the Ambassador Marco della Seta and Head of the Science and Technology Office Francesco Canganella - aimed to foster the scientific relationship between the two countries. The Ambassador pointed out that bilateral partnerships are often driven forward by the researchers themselves and are supported and promoted by the embassy.
In academia, bilateral cooperation has been taking place between institutions, such as the joint Master's degree between Incheon National University and the University of Siena of Italy, and also between government institutions such as the Korean and Italian National Institutes of Health.
The embassy also has held a bilateral science and technology forum periodically every three years to gather scientists and researchers from all fields, with the next one being held in Turin in November, according to the Ambassador.
In his personal experience, Marco was surprised by the mostly private Korean healthcare system. The Ambassador noted that Korean hospitals had a high level of technological equipment while talking about getting treatment at local hospitals during his stay.
"I mostly go to Suncheonhyang Hospital because it's close," the Ambassador said. "But I've also been to Seoul National University Hospital, Severance Hospital, and Seoul St. Mary's. A lot of people seem to go to St. Mary's."
Although Marco went to see the doctor at a hospital when he was sick in Korea, he pointed out that, in Italy, the doctor usually goes to the ill patient. "One difference between the two healthcare systems is that Italy has family doctors that go to you," the Ambassador said. "Most doctors go home to the patient. So when we're sick in Italy we don't go to the hospital, we call the doctor, and he comes or phones."
He also noted that the healthcare systems between the two countries varied mostly because Korea has one major city where five large hospitals compete against each other whereas Italy has some major cities such as Rome, Milan, Naples, and Turin with big hospitals crowded in each of the metropolitan areas. "So, in Italy, the difference is not between hospitals but between locations," he said.
Italy, like many other European countries, developed a system of welfare that offered free or at least state-subsidized healthcare for its people. Most Italian hospitals are state-owned or state-run and offer almost free care to residents, foreigners, non-citizens, and even immigrants.
The typical European system operates on the assumption that taking care of the people's health is a duty of the state. But the system, the Ambassador noted, is hard to sustain in an aging population. "It's a question of money at the end of the day, which is diminishing - it's not growing," he noted.
"Of course, it's expensive, and we are spending a lot of money. But this is a choice that we, like many European countries, have made," he said. "We have to change and limit some of the benefits that we used to give but, overall, the principle is still that healthcare should be available for everybody according to each person's level of income."
Noting the healthcare systems and business partnerships between the two countries, the Ambassador said that cooperation between the two countries is "mutually beneficial and essential" while saying that he believes Korea to be a powerhouse in research and scientific development.
Copyright © KBR Unauthorized reproduction, redistribution prohibited