Neurophet said Thursday that the company signed a contract to provide brain disease image analysis service for the Korea National Institute of Health (NIH) to establish research data for reading and studying brain disease image data.
"The project to build research data through reading brain disease image data," pushed by the KNIH's Healthcare Artificial Intelligence Research Division, is aimed to read and analyze brain MRI (magnetic resonance imaging) and amyloid PET (positron emission tomography) images gathered by NIH to increase research utilization of brain disease video data.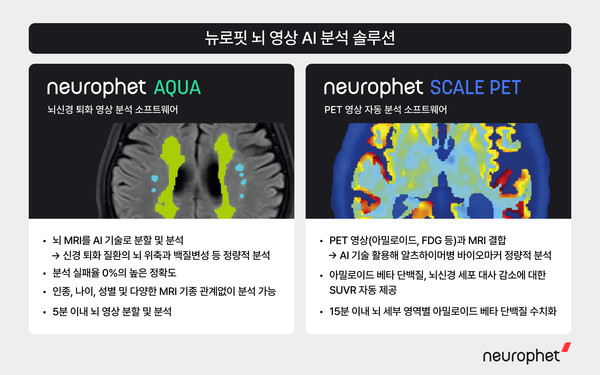 Neurophet has been selected as the leading research institute for this project and will read, process, and analyze brain image data until the first half of next year.
In this project, Neurophet provides analysis services using vast amounts of medical data obtained by KNIH. The data provided by KNIH include 392 cases of brain MRI, 392 cases of amyloid PET images, data from the Seoul Neuropsychological Test (SNSB), and mono-mental state examination (MMSE) data.
To provide KNIH with precise analysis service, Neurophet plans to make the most of its two flagship products – Neurophet AQUA, a brain nerve degeneration image analysis software, and Neutophet SCALE PET, a PET image automatic analysis software.
The company will use these products to generate volume values for each brain region and volume values for the white matter denaturation region, critical indicators of brain disease analysis identified in brain images.
Neurophet AQUA is a brain nerve degeneration image analyzing software device that analyzes brain atrophy and degeneration of white matter degeneration observed in neurodegenerative diseases, such as Alzheimer's and vascular dementia, by analyzing brain MRI using AI technology. An AI engine can segment and analyze brain images in just five minutes and analyze brain structure regardless of race, age, or gender. It received second-class medical device certification from the Ministry of Food and Drug Safety in 2020, the European CE mark last year, and medical device certification from Japan's Ministry of Health, Labor and Welfare in March.
Neurophet SCALE PET is an automatic analysis software medical device of PET images that quantitatively analyzes Alzheimer's biomarkers by combining PET images and MRI. It automatically provides SUVR (Standardized Uptake Value Ratio) on amyloid beta protein and reduced brain nerve cell metabolism, one of the Alzheimer's biomarkers, using Neurophet's AI technology.
Neurophet SCALE PET obtained second-class medical device certification from the Ministry of Food and Drug Safety in February, followed by a license (510k Clearance) from the U.S. Food and Drug Administration in August. As Alzheimer's progresses, the glucose metabolism of brain nerve cells decreases, and the Neurophet SCALE PET provides a numerical degree of reduction in glucose metabolism observed in FDG-PET images. Among the PET image software developed in Korea, Neurophet SCALE is the first to receive FDA certification among software showing glucose metabolism in numerical values.
"As our company was selected as the leading research institute by the National Health Institute, we are pleased to provide Neutophet's brain image analysis technology for the national project to establish research data," Neurophet CEO Bin Jun-gil said. "We will provide scientific grounds for use in future research by precisely analyzing research data based on our proven solutions."
Neurophet is actively carrying out the "ATNV Project," a national research task that quantitatively analyzes Alzheimer's biomarkers by upgrading Neurophet AQUA and Neurophet SCALE PET. The project aims to quantify amyloid (A)-tau (T)-neurodegenerative (N)-vascular neuropathic (V), Alzheimer's biomarker, using AI-based image analysis technology and develop products that can diagnose dementia in the early phase and predict prognosis.
Copyright © KBR Unauthorized reproduction, redistribution prohibited