Hugel said Friday that it reapplied to the U.S. Food and Drug Administration (FDA) for marketing approval for Letybo (brand name in Korea: Botulax), its botulinum toxin formulation, to treat forehead wrinkles.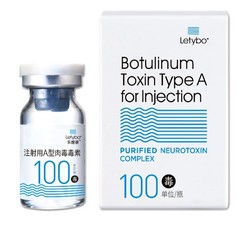 Hugel had sought the U.S. permit for Letybo 50 units and 100 units in March 2021.
However, the company received a CRL (Complete Response Letter) from the FDA in March this year.
A CRL is an outcome of the FDA review on Biologics License Applications (BLA) or New Drug Applications (NDA). The FDA issues a CRL to require additional field inspection or supplementary data. If a company receives a CRL, it must apply for approval again.
Hugel has since completed the data supplementation in accordance with the CRL and resubmitted the application to the FDA.
Usually, it takes about six months to obtain a permit after submitting documents in the U.S. Hugel expects Letybo will enter the U.S. market in the first half of 2023.
If the company obtains approval, Hugel America, its U.S. subsidiary established in 2018, will be responsible for the product's marketing, distribution, and sale.
"The U.S. is the world's largest BTX market, and will become one of the key markets for Hugel," Hugel CEO Sohn Ji-hoon said. "As we are in the final stage for advancing into the U.S. market, we will do our best to successfully launch Letyvo and ensure that it becomes one of the top three BTX brands in the U.S. market within three years from its launch."
Hugel's shares remained nearly unchanged despite the reapplication news. As of 3:00 p.m., Friday, shares traded at 109,700 won ($77.76), a 0.18 percent increase from the previous trading day.
Hugel has yet to be free from the U.S. International Trade Commission (ITC) probe over a complaint submitted by Medytox.
The ITC is a federal agency with the authority to judge cases involving companies that exploit U.S. intellectual property rights and those that import allegedly infringing products. If the agency finds any wrongdoing during the investigation, it can order an import ban on patent-infringing products.
Medytox had submitted the complaint to the ITC, alleging that Hugel developed Letybo using a stolen manufacturing secret in April.
However, it is unclear if Medytox's complaint holds any credibility as its proof to back up its complaint remains confidential.
According to the ICT, the two companies agreed that comparing the DNA sequences of each BTX strain may be relevant to one or more of the claims or defenses in this Investigation on Sept. 12.
"Medytox and Hugel have each requested samples of each other's respective strains so that the DNA can be extracted and compared," the ITC report read. "The sample collection and DNA testing of the strains will take place in Korea, including by non-Korean individuals, and the DNA results will need to be exported to the U.S. for purposes of this investigation."
Copyright © KBR Unauthorized reproduction, redistribution prohibited