Samsung Biologics is drawing the industry's attention by preemptively launching a CDMO (contract development and manufacturing organization) business targeting the growing market of bispecific antibody medical products.
The company said Thursday that it has released "S-DUAL," an independently developed bispecific antibody platform.
"Bispecific antibodies are a promising, next-generation drug form with more than 600 substances under development currently," the company said in an online news conference to celebrate the market launch of S-DUAL. "We expect companies that currently do not have bispecific antibody substances to develop such drugs using our services."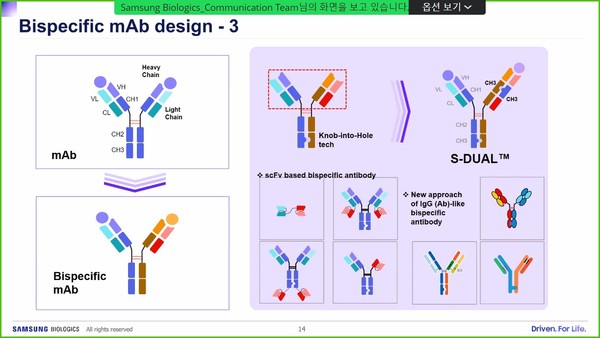 According to Samsung Biologics, as of 2021, the market for bispecific antibody drugs totaled only $4 billion (about 5.63 trillion won). However, it is expected to grow at an annual rate of 32 percent in the future, forming more than five times larger market in five to six years.
Nevertheless, few bispecific antibody drugs are currently commercialized, even in the global market. Instead, Roche's hemophilia treatment Hemlibra (emicizumab) accounts for most market sales.
Samsung Biologics also did not elaborate on the market share and sales expected through the launch of S-DUAL.
The company just explained that it has secured superior technology compared to the existing bispecific antibody platform and plans to operate a licensing business through it. Industry experts interpreted that the company would support the commercialization of drugs in the current development stage to achieve results, such as milestones in the future.
Samsung Biologics particularly emphasized that it added CH3 (constant heavy chain 3) domains with specific binding-inducing techniques to one arm area to minimize binding errors of double antibodies. In addition, the company explained that by increasing the binding power between antibodies, it reduced the rate of impurity generation and secured high purity of up to 99 percent.
Besides, Samsung BioLogics also introduced the recently released new drug candidate discovery platform, "Developick." It is a service that analyzes the stability of candidate materials in various ways and selects materials with high potential for development before entering a pre-clinical phase.
Asked whether the company plans to develop new drugs by itself using bispecific antibody platforms, Samsung Biologics drew the line, saying, "Rather than developing new drugs, we will focus on CDMO businesses that are safe and profitable."
Related articles
Copyright © KBR Unauthorized reproduction, redistribution prohibited