"It is quite possible to globalize Korean medicines and medical supplies."
CEO Huh Kyung-hwa of the Korea Innovative Medicines Consortium (KIMCo) affirmed so during a meeting with reporters to commemorate the second anniversary of the consortium's establishment.
KIMCo is a non-profit foundation set up jointly by the Korea Pharmaceutical and Bio-Pharma Manufacturers Association (KPBMA) and 59 Korean biopharmaceutical companies. It was established to build an open innovation platform for joint investment and joint development by putting together the domestic bio-pharma companies' resources and capabilities, developing infectious disease treatments, vaccines, and innovative drugs, and helping them advance to global markets.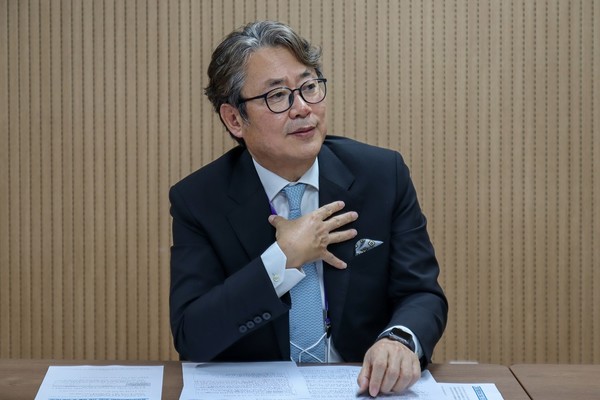 Asked to evaluate KIMCo's performance in the past two years, CEO Huh said, "I can't give it 100 points because it's about 2 percent short of the target."
Noting that the past two years have been the "introduction period," Huh said it has been the time to establish a public-private collaboration system with the government in earnest.
"We planned and operated various tasks with the Ministry of Health and Welfare, the Ministry of Trade, Industry and Energy, the Ministry of SMEs and Startups, and the Ministry of Food and Drug Safety," he said. "The reason I said we were 2 two percent short of hitting the goal was the lack of specific results despite the difficult process of joint development and joint research. However, we built the foundation for joint development of new drugs, as shown by the smooth operation of various committees and advisory groups to support this."
According to KIMCo, the consortium's accomplishments over the past two years are: Securing new momentum for developing and commercializing advanced drugs in global markets through planning and operating technology-based medicine (TBM) project; reinvigorating deal sourcing open innovation by strengthening cooperation with domestic and foreign bio clusters; strengthening the momentum for industry's manufacturing innovation through the expansion of public-private partnership projects related to manufacturing and quality enhancement; operating K-mRNA Consortium to develop Covid-19 mRNA vaccine and next-generation platform technology; and establishing platforms for developing global new drugs and helping to commercialize them.
More specifically, the consortium is conducting the TBM project for a global advance intending to complete three phase 1 clinical trials in the ASEAN, Middle East, CIS, and Latin American regions from April 2021 to December 2024. It also launched a project to support the establishment of a smart factory specializing in the medical industry supported by the Ministry of SMEs and Startups with a government contribution of 3.73 billion won ($2.62 million) with 50 percent in matching funding by the private sector.)
In addition, it plans to complete the "QbD system introduction base establishing project that began in May by November and has begun the technology development project to improve the production of vaccine raw materials pushed by the Ministry of Trade, Industry and Energy. Besides, the consortium is carrying out a KIMCo-Hongneung intermediary research and commercialization joint project and building cooperative ties with global bio-clusters.
CEO Huh expressed expectations about the TBM project in particular.
"From the patients' point of view, 'drug improvement' is also important (by, for instance, increasing the duration of the drug or changing the method of taking it to oral drugs)," Huh said. "However, Korea's capacity (to develop improved new drugs) has been underestimated. It is also regrettable that there have been no cases of global success with improved new drugs from the aspect of commercialization. Instead of settling in the domestic market, efforts are needed to graft the technology we have to overseas markets. In that respect, we need to pay attention to the TBM business."
KIMCo is carrying out its TBM project by dividing it into three subcategories -- long-term persistent injections (continuous injections, four-week-lasting depot injections), nano-soluble technology (biological utilization improvement form using nanonization technology, and oral mucosal film grafted with ionosporesis), and substance emission deformation control technology (ion binding and emission control formulation technology, and sustained oral formulation technology). Dongkook Pharmaceutical, TIONLAB Therapeutics, Yuhan Corp., Addpharma, Wooshin Labottach, and Rex Pharm Tech are participating in the project.
"What we are pursuing is clear -- making medicines that can be patented with only formulation technology," Huh said. "In some cases, improved drugs could be released to the market with only a phase 1 clinical trial. The business value is sufficient because we aim to make inroads into the global market by taking advantage of our technology's strengths."
CEO Huh also expressed confidence that the emergence of global indigenous drugs would not be a distant story.
"I want to make it clear that Korean medicines can also be globalized. I still cannot talk about a particular substance (as such a candidate). However, considering the R&D capabilities of pharmaceutical bio companies, bio-venture companies' enthusiasm for research and development, and the support from the government through its mega-fund, conditions are ripe to challenge the commercialization of the new drug,"
CEO Huh added that KIMCo is making collaborative examples with various stakeholders in the biopharmaceutical industry.
"So far, we've focused on concretizing the project. However, I will be able to tell you the results next year or the year after that," he emphasized.
Copyright © KBR Unauthorized reproduction, redistribution prohibited