With a "bill on assisted death with dignity" proposed, an expert pointed out that for patients' death with dignity, the parties involved should strengthen palliative care instead of discussing physician-assisted suicides.
Professor Lee Myung-ah of the Department of Oncology at Catholic University of Korea Seoul St. Mary's Hospital made these and other points at the "Autumn Training Lecture of the Korea Society for Hospice and Palliative Care 2022" at the university's Maria Hall last Saturday.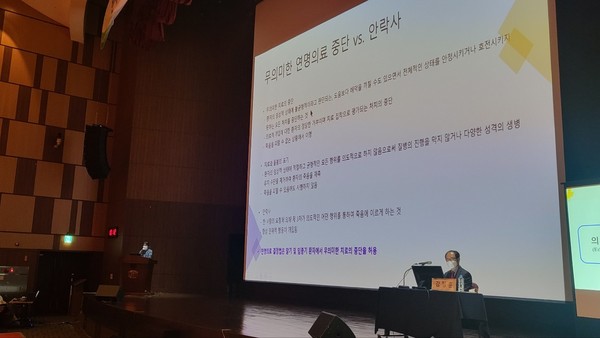 Lee pointed out that although the media and public divide doctor-assisted suicide into death with dignity and euthanasia, the two mean the same thing.
"In Korea, every way to go to a decent death is called death with dignity. However, euthanasia is also a way of dying with dignity. People call it death with dignity because patients can maintain dignity on their way to death, but it is not different from euthanasia," Professor Lee said. "It is important for medical professionals to understand what patients want when they and their families talk about death with dignity."
Ordinary people approve of doctor-assisted suicide out of vague fear because they have not undergone diseases specifically, according to the medical oncologist.
"The general public might think it's better to give up than receive disproportionate treatment due to their hatred and fear of diseases," she said. "For instance, although the share of people who make 'advanced directives' for life-prolonging care increases, the comparable number made by terminal patients is not growing much."
Lee pointed out that a look into the decision-making process of patients who died after stopping life-prolonging care shows that the statements by persons with parental rights or the patients' families accounted for a large proportion.
There are often the results of opinion polls on the general public but we must consider that the positions of terminally ill patients suffering from diseases are different, she added.
From the medical standpoint, it is dangerous to accept patients' "right to die" literally, Professor Lee pointed out.
"Improving the quality of health by receiving treatment and care in a disease situation is a patient's right and right to life," she said. "It is more appropriate to interpret the patients' right to die as the right to be cared for comfortably in the process of death, rather than deciding life and death itself."
Lee added that the patient's decision can be confused with the patient's health status. Patients' preferences are increasingly difficult to materialize, especially in extreme circumstances. We should think twice that if a patient refuses treatment and asks for death, she does not accept death but want the painful situation to improve.
To protect patients' right to die with dignity, it is important to develop medical technology associated with palliative care and strengthen related institutions, she said.
"People often say they have nothing more to do. However, as the patient's physical pain and discomfort increase in the terminal stage, there are more things to do, such as treatment to alleviate it," she said. "We need to further develop medical technology related to care. It is also necessary to provide care and strengthen the quality of the system to maintain a state of dignity to protect the right of a terminally ill patient to die with dignity."
Professor Choi Yun-seon of the Family Medicine Department at Korea University Guro Hospital agreed.
"From the government's point of view, the suspension of life-sustaining treatment saves money, but improving the quality of end-of-life care may seem to cost more money. In this reality, the medical community should not be dragged down every time the law is revised, but needs to ask the government to train manpower and prepare a system so that patients can get the 'best care.'"
Related articles
Copyright © KBR Unauthorized reproduction, redistribution prohibited