Myongji Hospital said it signed an agreement with Next&Bio to jointly establish an organoid bank at the New Horizon Healing Center of the hospital on Friday.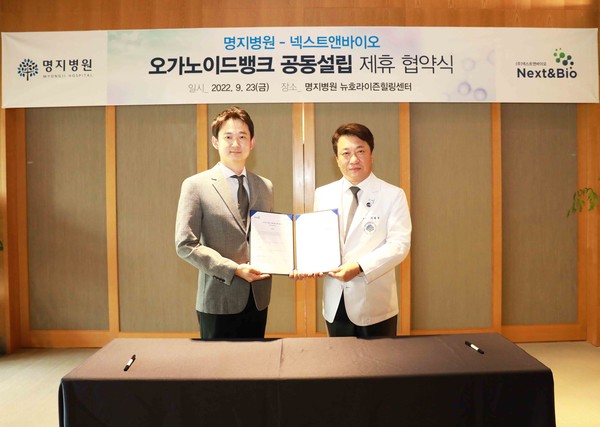 Organoid Bank collects and stores tissue simulators, called "organoids," produced using patients' physical tissues. Patient-derived organoids, medical information, and genetic data are used to screen patients for customized treatments or to discover new biomarkers.
Myongji Hospital plans to establish the organoid bank using cancer tissues in liver, stomach, colon, and pancreatic cancer patients, and gradually expand the scope of types of cancer.
In this regard, the hospital said it will cooperate with Next & Bio to start running the organoid bank next month. Together, Next&Bio's organoid culture and production technology and Myongji Hospital's accumulated clinical research know-how will improve treatment performance and provide precision medical services to patients, the hospital said.
Furthermore, the two institutions plan to develop new drugs tailored to cancer patients using Myongji Hospital's own anti-cancer immune cell therapy technology and Next&Bio's immune cell therapy screening platform, which have been accumulated by operating the hospital's Cell Bio and New Horizons Cancer Research Institute.
According to the hospital, this will greatly expand the scope of the use of organoids by developing patient-tailored anticancer cell therapy due to the nature of cancer organoids that contain the characteristics of each patient and replace the animal experimental efficacy evaluation method with a platform using human organoids.
"Next&Bio is discussing various business operations with major domestic and foreign research institutes in the field of developing new drugs using organoids, for evaluating the validity and toxicity of new drug candidates." Next & Bio CEO Lee Young-wook said.
"Myongji Hospital and Next&Bio will strive to lead the field of organoid research in Korea," Myongji Hospital Chairman Lee Wang-jun said. "We will try to revitalize organoid research and provide advanced precision medical services for cancer patients."
Related articles
Copyright © KBR Unauthorized reproduction, redistribution prohibited