MSD Korea said on Friday that Keytruda (ingredient: pembrolizumab) obtained domestic approval as a combination therapy with chemotherapy, with or without bevacizumab, as the primary treatment for patients with persistent, recurrent or metastatic cervical cancer.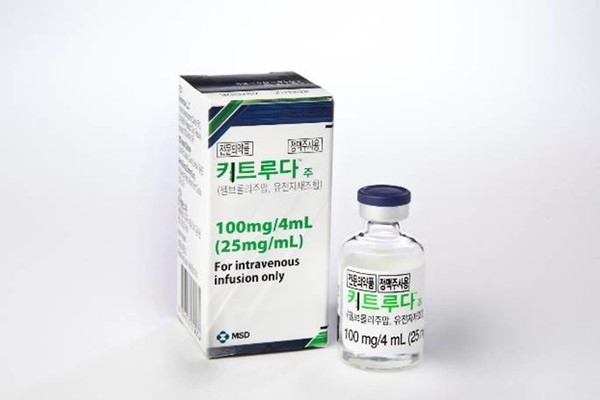 Consequently, Keytruda has now been approved for all three types of gynecological cancers: endometrial cancer and microsatellite instability-high (MSI-H) endometrial cancer, ovarian cancer, and cervical cancer. It is a new treatment option across the field of hard-to-treat female cancers, such as triple-negative breast cancer (TNBC).
Cervical cancer has the fifth highest prevalence among female cancers in Korea, characterized by a high proportion of relatively young patients. The five-year relative survival rate for cervical cancer is 94.6 percent, but with remote metastases, it is significantly reduced to 27.8 percent.
The authorization was based on phase 3 clinical results that evaluated the efficacy and safety of the combination of Keytruda and platinum-based chemotherapy (paclitaxel and cisplatin or paclitaxel and carboplatin) regardless of whether bevacizumab was administered in persistent, recurrent or metastatic cervical cancer patients with no prior experience in chemotherapy treatment. Keytruda demonstrated the improvement of both the progression-free survival (PFS) and overall survival (OS) in PD-L1 positive patients with metastatic cervical cancer.
MSD Korea said the median PFS was 10.4 months for the Keytruda-chemotherapy combination therapy group, versus 8.2 months for the control group. The Keytruda group had a lower risk of disease progression or death by 38 percent compared to the control group.
Meanwhile, the overall survival rate at 24 months was 53 percent in the Keytruda group and 41.7 percent in the control group, with a 36 percent reduced risk of death in the Keytruda group. The most common grade 3 adverse events in the Keytruda group were anemia (30.3 percent) and neutropenia (12.4 percent).
Accordingly, the U.S. National Comprehensive Cancer Network (NCCN) is recommending Keytruda combination therapy as the primary standard treatment for recurrent or metastatic cervical cancer in its 2022 Cervical Cancer Treatment Guidelines.
"With this authorisation, Keytruda will provide hope for women with endometrial cancer, ovarian cancer, cervical cancer and TNBC." MSD's head of anti-cancer drug division, Kim Sung-phil, said.
Related articles
Copyright © KBR Unauthorized reproduction, redistribution prohibited