The Asian Oceanian Congress of Radiology and Korean Congress of Radiology 2022 (AOCR 2022 & KCR 2022) kicked off its five-day run in COEX, southern Seoul, on Tuesday.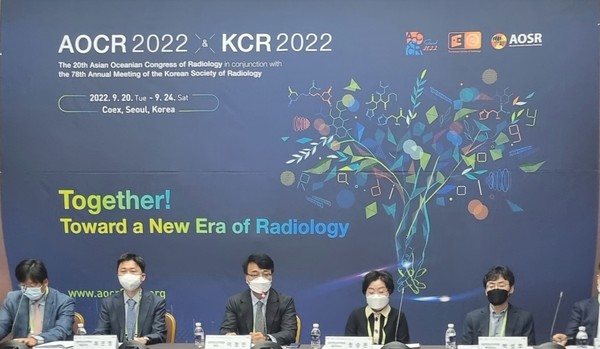 KCR is one of the leading radiology conferences in Asia hosted by the Korean Society of Radiology (KSR). This year is also the first time that KCR is holding its conference in conjunction with AOCR.
According to KSR, the joint conference will attract 4,000 radiologists from 35 countries. Corporate participants include global medical device companies such as GE Healthcare and Philips, and Korean artificial intelligence (AI) medical device companies such as VUNO, Lunit, and Medical IP.
While the organizers planned to conduct the congress offline this year to facilitate face-to-face academic exchange among members, they said they will also offer online academic programs for participants who cannot attend on-site. However, the exhibition halls will only be available for offline participants.
"Although the number of overseas participants did not increase significantly due to Covid-19, it recovered to the pre-Covid-19 level," KSR President Lee Jeong-min said during a press conference on Tuesday. "KSR decided to hold the congress offline this year as there were limitations in human exchange and cooperation between academia and industry."
However, due to the re-emergence of Covid-19, KSR stressed that it plans to conduct the academic conference by strictly complying with quarantine rules, KSR scientific committee chair Choi Jin-young said.
The congress will also hold joint symposiums with various academic societies, which is expected to serve as a venue for active academic exchange and communication promotion, Choi added.
KSR stressed that it has expanded the AI-related company exhibition area (SPACE AI), which was newly established at KCR 2021, after receiving positive feedback from attendees, and AI-related programs, such as AI Hands-on Workshop and AI Scientific Session, to provide AI research trends and practical experiences from foreign countries.
"The KSR has fully prepared the AOCR 2022 & KCR 2022 so members can share experiences and information through face-to-face exchanges and enjoy rich academic programs," Lee said. "I hope the congress will serve as an opportunity to raise the international status of Korea's radiology field and revitalize international exchanges and cooperation."
Copyright © KBR Unauthorized reproduction, redistribution prohibited