"Sometimes, we find it difficult to explain some parts even with pictures from anatomy textbooks. For example, in which direction the blood flows in the heart or how the aorta goes up and down. However, by using virtual reality (VR) contents, we can confirm these things more easily, and the body viewed as a three-dimensional space remains a strong memory for medical students."
Choi Hyung-jin, a professor at the Anatomy Class of the Seoul National University College of Medicine (SNU Medicine), said so at a seminar, "Metaverse -- another 20 years to come," organized by Medical IP at JW Marriott Hotel in eastern Seoul last Friday.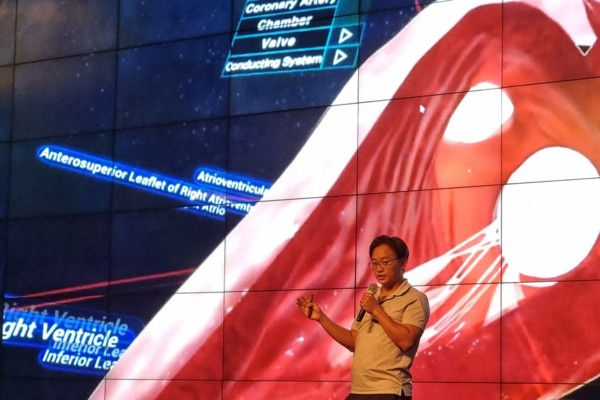 SNU Medicine uses MDBOX, anatomical contents based on VR and AR, in anatomy education. The content is characterized by its ability to move, rotate, and control the transparency of anatomical structures.
Professor Choi, citing the appearance of the iPhone in 2007 as an example of the technological innovation of humankind, predicted that the metaverse would emerge as the innovative technology of the medical community. However, he cited the possibility of user immersion and the consequent improvement of content quality as its prerequisites.
"There had been medical VR contents but they remained little more than toys because they could not move freely or contained no detailed information," Choi said. "It is important whether users wearing the head-mounted displays (HMDs) can freely move in the space with anatomical objects."
Students cannot move into bodies (when they use cadavers), but that becomes possible by using HMD, Choi noted. After the students experience moving into even major organs and examining them in a 360-degree direction, they show an extraordinary level of understanding.
Choi also conducted a study to prove the superiority of medical metaverse technology in anatomy education, by comparing the educational effects of traditional practice education using cadavers and VR-based practice education.
"One should not stop at expressing 'good' subjectively. I felt the need to prove its effects rigorously," he said. "I divided students into two groups to evaluate their performance. The results showed that they were equal or sometimes the VR group was better depending on the type of anatomical practice. In particular, I reaffirmed the importance of 3D experience through HMD, no matter how precise the 2D content is."
Professor Choi said in conclusion, "There should be no misunderstanding. We do not conduct the anatomy practice for as long as four hours using VR content. It is important to have a short study of about 5 minutes or so with a precisely planned learning goal. That's why the role of educators is important."
In the seminar, Professor Do Yun-shik of the Neurosurgery Department of Chungbuk University Hospital introduced MEDIP PRO AR, an operational AR platform with the title of "Korea's first medical device-certified AR navigation system." Professor Hong Nam-ki of the Endocrinology Department at Severance Hospital showed directions for using and studying "DeepCatch" in his presentation titled "Diagnosis of metabolic diseases based on video biomarkers."
"As we enter the era of predicting and preventing diseases, cutting-edge technology is gradually advancing. In this process, many companies putting up the keyword of healthcare appeared and disappeared," said Chung Jin-wook, head of the Institute of Convergence Medicine, at Seoul National University Hospital. "As Medical IP moves toward medical metaverse following artificial intelligence-based 3D printing, I hope this seminar will be an opportunity to confirm the possibility of Medical IP.
Copyright © KBR Unauthorized reproduction, redistribution prohibited