Wells Bio said Monday that "careGENE HPV detection kit-M," an independently developed human papillomavirus (HPV) molecular diagnosis kit, has obtained domestic permission.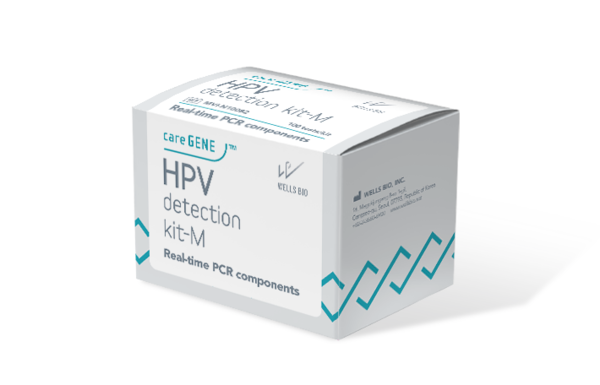 The in vitro diagnostic device helps diagnose HPV infection by detecting DNA extracted from women's cervical liquid cell samples through real-time PCR. HPV is a common virus that causes warts among other symptoms, and there are about 100 types known so far. Among them, viruses classified as high-risk groups have been found to cause various cancers, including cervical cancer.
Existing kits target a wide range of HPV including the most common, HPV 16 and 18, but this product was specifically designed by selecting 25 types of human papillomaviruses with a high prevalence in Latin America.
The clinical trial results conducted in Korea showed excellent clinical performance exceeding 90 percent sensitivity and 98 percent specificity. It also demonstrated low-concentration detection with only 10 DNAs per test.
Wells Bio plans to accelerate its entry into the Latin American market, where HPV molecular diagnostic reagents are in high demand, and is currently focusing on promoting products by participating in various international medical device fairs. Latin America represents 60,000 women who are diagnosed with cervical cancer annually and half of them die due to a lack of proper diagnostic methods, said a company official.
The product launched by Wells Bio is designed to allow wide inspection of HPV high-risk groups as well as low-risk groups, targeting trends specific to the Latin American diagnostic market. Additionally, the World Health Organization (WHO) strongly recommended HPV genetic testing as the best screening method to prevent cervical cancer in September last year, making it highly marketable.
Wells Bio plans to release its product in the fourth quarter of this year and begin exports to Latin America which accounts for 90 billion won ($64.6 million) of the 1 trillion won market.
"The importance of early diagnosis through excellent diagnostic reagents is growing daily," a Wells Bio official said. "We will actively explore the Latin American market through cooperation with Access Bio."
Related articles
Copyright © KBR Unauthorized reproduction, redistribution prohibited