GE Healthcare Korea said UGAP (Ultrasound-Guided Attenuation Parameter), which can quantitatively scan for hepatic steatosis of non-alcoholic fatty liver disease (NAFLD) using B-mode ultrasound attenuation coefficient, was recognized by the government as new
medical technology.
UGAP makes quantitative analysis of NAFLD, measuring the sound wave attenuation, a characteristic found during ultrasound diagnosis of the disease, and provides information by grading the degree of NAFLD with visually quantified results.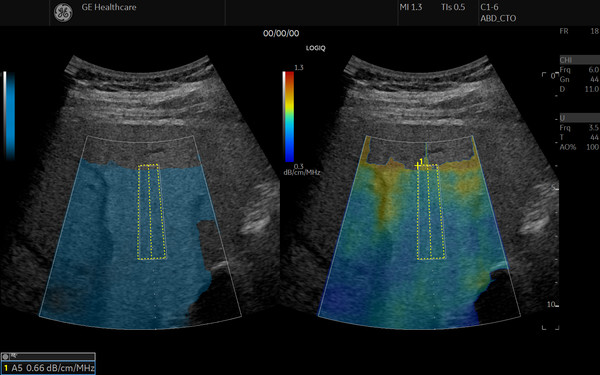 UGAP can be applied to GE Healthcare's ultrasound equipment including LOGIQ E10 series, LOGIQ Fortis, and LOGIQ P10.
GE Healthcare's ultrasound equipment using UGAP will be exhibited at the 2022 K-Hospital Fair from Sept.29 to Oct. 1 at Coex in southern Seoul.
Related articles
Copyright © KBR Unauthorized reproduction, redistribution prohibited