SMC professor regrets 'domestic insurance benefit environment'
PARIS -- "Lung cancer treatment is developing day by day, but the domestic health insurance benefits and other treatment environments fall far short of supporting the development."
Professor Ahn Myung-joo of the Department of Hemato-oncology at Samsung Medical Center (SMC) said so on Sunday when asked about her impression of the latest lung cancer treatment trend she encountered at the European Society of Medical Oncology (ESMO) 2022.
Professor Ahn once again made her mark in the world as a Korean cancer expert by chairing many lung cancer sessions and making presentations during ESMO 2022. Why did she express regret over the reality of treating lung cancer patients in Korea, then?
Korea Biomedical Review met with Professor Ahn to hear about her views on the EGFR (Epidermal Growth Factor Receptor) non-small cell lung cancer (NSCLC) treatment highlighted at the conference.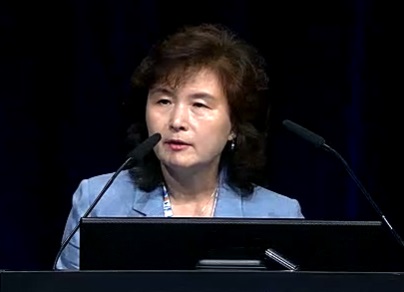 'Majority opinion' is for TKI-based adjuvant therapy for early EGFR mutation patients
It's been quite a while since targeted anticancer therapy became the global standard in treating inoperable stage 4 EGFR-mutated NSCLC. Also, the third-generation treatment of EGFR TKI (tyrosine kinase inhibitor) used for targeted therapy has been developed currently.
Recently, the discussion is ongoing about using EGFR TKI to increase the cure rate and prevent recurrence in early-stage patients who can receive operation. A typical treatment is "Tagrisso (ingredient: osimertinib) adjuvant therapy."
Tagrisso has already expanded its indications as the post-operation adjuvant therapy for early EGFR-mutated NSCLC patients in Korea through the phase 3 clinical trial of the ADAURA study. The updated results of the ADAURA study were released at ESMO 2022, which, like previous interim results, showed a dramatic improvement in disease-free survival (DFS), adding grounds as a standard treatment.
With only 51 percent of data maturation, the median duration of disease-free survival (mDFS) of the Tagrisso adjuvant therapy group (phase 2A to 3A) was 65.8 months, reducing the risk of recurrence and death by up to 77 percent compared to 21.9 months of the placebo group. In particular, the risk ratio (HR) for central nervous system disease-free survival (CNS DFS) stood at 0.24, reducing the risk of recurrence and death of brain lesions by 76 percent compared to placebo.
"After all, the purpose of treatment for early lung cancer patients who can receive operation is to extend their survival," Professor Ahn said. "In the case of the ADAURA study, it has become difficult to improve overall survival results compared to placebo as DFS showed a big difference in the early phase (because crossover was allowed according to the recommendation of the Independent Data Monitoring Committee). Nevertheless, it was a very significant result it could reduce the risk of recurrence by 77 percent."
Notably, the risk ratio of patients in stage 3A was more pronounced at 0.20, meaning it reduced the recurrence rate by 80 percent, Ahn said. Currently, Tagisso adjuvant therapy is used as a standard treatment for early patients who can operate in the U.S., she noted. Worldwide, the adjuvant therapy using TKI for early EGFR mutation patients is also becoming a "major opinion," Ahn added.
"The previous first- and second-generation EGFR TKI, such as erlotinib, also improved DFS as postoperative adjuvant therapy but failed to improve OS," Professor Ahn said. "However, Tagrisso has good capability to pass through the cerebrovascular barrier, so it can prevent brain lesion."
A look at the CNS DFS graph released this time showed that in the case of the placebo group, the recurrence of brain lesions increased from the beginning of the study. However, in the case of the Tagrisso group, it was not until three years after the end of the medication that it gradually increased.
Accordingly, Professor Ahn said, "If the Tagrisso adjuvant therapy can get insurance benefits in the domestic treatment environment, I would like to recommend it to phase 3A patients who have a high risk of brain lesions but enjoy the highest treatment effect."
However, she cited developing biomarkers that can select patients who must receive the Tagrisso adjuvant therapy and expect good effects, establishing methods to take medicine, and developing follow-up treatment of patients who have relapsed due to resistance as future tasks.
Expectations rise about 'Leclaza' emerging as a global new drug
Currently, two third-generation drugs can be used for stage 4 EGFR mutated lung cancer in Korea. One is AstraZeneca's "Tagrisso" mentioned earlier. The other is "Leclaza (ingredient: lazertinib)" developed by Yuhan Corp., a domestic pharmaceutical company.
Leclaza has recently received approval from the Ministry of Food and Drug Safety based on the phase 1/2 clinical trial of the LASER 201 study. Yuhan released follow-up data for the LASER 201 study, presenting median overall survival (mOS) of 38.9 months. It meant that patients survived three or more years on average when medical professionals used first- and second-generation EGFR TKI for primary treatment, and used Leclaza for patients with advanced diseases as the secondary treatment.
"Although the pertinent data requires cautious interpretation because it had a relatively small number of patients with 76 and was a single group clinical trial, the OS of 38.9 months is very encouraging," Professor Ahn said. "It was true the result was longer than researchers had expected."
Ahn noted that the study included about 30 percent of brain metastatic patients, and none of them experienced the aggravation of brain lesions, adding such facts might have affected the longer-than-expected OS figure.
According to a study released at the conference, 25 out of 76 patients were accompanied by brain metastasis at the start of the study. However, the progression of brain lesions was observed in only seven patients. Besides, one in seven patients (14.3 percent) with measurable brain lesions showed complete remission (CR) within the cranial cavity after the administration of Leclazae, and five (71.4 percent) showed partial remission (PR), showing an objective response rate of 85.7 percent within the cranial cavity.
Based on these results, Professor Ahn showed expectations about expanding Leclaza's primary indications. It is also in part because the result of phase 3 clinical trial of the LASER 301 study will be released in the latter half-year or early next year. The LASER 301 study compares and evaluates the primary treatment of stage 4 EGFR mutated non-small cell lung cancer with the existing "Iresa (ingredient: gefitinib)" therapy, and the clinical trial for domestic confirmation.
"Of course, the results of the study will be positive, but the key is how long the progression-free survival period will be," the SMC professor said. "The expansion of the primary indication of Leclaza is expected to be in the second half of next year after its release in a journal."
Ahn said that as Lecraza was developed in Korea, many domestic lung cancer patients could get treatment opportunities through clinical trials and other channels. She noted that not just Korea but many other countries, including China, Taiwan, Russia, and Southeast Asia, participated in the LASER 301 study, adding that if approved, it will be able to play a role as a global drug.
Target therapy appears on EGFR Exon 20 Insertion lung cancer
In the EGFR Exon 20 insertion NSCLC cell lung cancer treatment field, which had no treatment options other than chemotherapy, two targeted treatment options appeared at once. They are double-specific antibody "Rybrevant" (ingredient: amivantamab) developed by Janssen and TKI "X-Kibity" developed by Takeda (ingredient: mobocertinib).
Both treatments won approval from the Ministry of Food and Drug Safety to treat "adult patients with locally advanced or metastatic NSCLC who have previously been treated with platinum-based chemotherapy and have EGFR Exon 20 insertion," and can be used now.
Professor Ahn said it is encouraging that targeted treatment has finally appeared on EGFR Exon 20 insertion lung cancer that had had no treatment options at all. This is because EGFR Exon 20 insertion lung cancer belongs to "rare cancer."
Only 2 percent of NSCLC patients have Exon 20 insertion mutation, and the standard treatment for them had long been platinum-based chemotherapy with poor five-year survival of 8 percent.
"Although I cannot compare the two new treatments, the efficacy and adverse effects of amivantamab and mobocertinib shown in the secondary treatment of EGFR Exon 20 insertion patients were similar," Ahn said. In terms of efficacy, both showed about 40 percent of response rate, and similar levels of PFS and OS, she added.
"As both treatments target not just EGFR Exon 20 insertion mutation but regular EGFR, they are accompanied by various adverse effects, including diarrhea, stomatitis, and paronychia," Ahn said. "In the case of amivantamab, researchers experienced difficult in initial development due to injection-related reactions but they are largely manageable."
Diarrhea, the biggest adverse effect of Exkivity, also does not matter much in domestic clinical trials. Domestic clinicians have accumulated experience in using EGFR TKI and can solve most problems by reducing doses.
Professor Ahn predicted that the difference in the method of taking Rybrevant and Exkivity would eventually serve as the criteria for patients' choice of drugs.
"Mobocertinib is an oral drug that you can take once a day, and amivantamab is an injection. Amivantamab should be injected once a week at first and once every two weeks afterward. Accordingly, patients should visit the hospital every two weeks," she said. "Because the efficacy and side effects of the two drugs are almost the same, patients will eventually have to choose between pills and injections."
According to Professor Ahn, both Ryvrevant and Exkivity are preparing to expand primary treatment indications.
"In the case of Mobosertinib, a phase 3 clinical trial comparing platinum chemotherapy to primary therapy is underway as a single therapy. Amivantamab is also in the process of comparing it with chemotherapy in combination with lazertinib," Professor Ahn said. "We will see the results in a couple of years."
Domestic R&D of treatments is encouraging, but reimbursement has problems
From the initial to the metastatic stage, EGFR-mutated NSCLC treatment in Korea has one thing in common -- although treatments have been developed and approved, insurance benefits are not applied.
Tagrisso adjuvant therapy for early-phase patients, Tagrisso monotherapy for primary treatment of metastatic patients, and Rybrevant or Exkivity monotherapy for Exon 20 insertion patients are all uncovered remedies.
Professor Ahn emphasized that "the application of insurance benefits to Tagisso for the primary treatment of metastatic patients is the most urgent issue." This is because only Korean patients cannot be benefitted from Tagrisso therapy, which has already become a global standard.
Tagrisso, which expanded its primary treatment indication in metastatic patients in December 2018, has been steadily applied for reimbursement since 2019. However, it has failed to cross the threshold of the Cancer Disease Review Committee for nearly four years.
"EGFR Exon 20 insertion lung cancer is the area where there are no drugs available," Ahn said. "This cancer, the same as rare cancer in terms of the number of patients, also needs reimbursement."
Rybrevant, which scored a nod from the Ministry of Food and Drug Safety in February, hurriedly applied for reimbursement to the Health Insurance Review and Assessment Service (HIRA). However, it failed to pass the cancer screening review in June and suffered a setback from its first challenge.
Professor Ahn noted that with the development of the domestic bio-industry, participation in early global clinical trials and independent development of immuno-cancer drugs and targeted anticancer drugs have become common, saying it's "very encouraging." Ahn added that she felt proud to look at research results independently developed presented at global conferences.
"Now that the environment has improved to research and develop treatments, it will be much better if we could use developed therapies in the domestic clinical field at the right time by helping patients and industries as well," Professor Ahn said in conclusion.
Related articles
Copyright © KBR Unauthorized reproduction, redistribution prohibited