Korean physicians expressed their high expectations for SpaceOAR, Boston Scientific's new medical device that reduces side effects in radiation therapy for prostate cancer patients.
SpaceOAR device reduces the amount of radiation delivered to the rectum by injecting a hydrogel barrier between the prostate and rectum during radiation therapy for prostate cancer patients.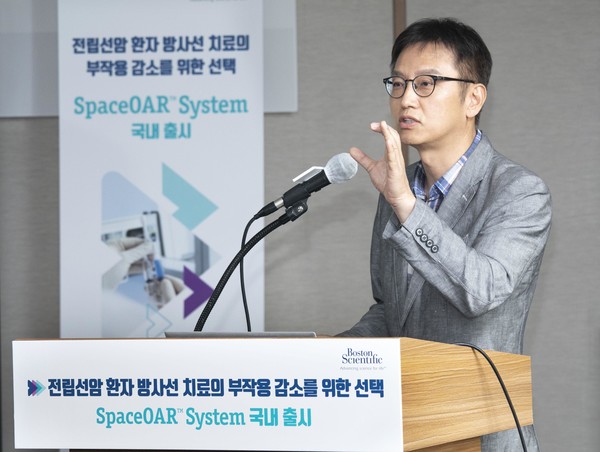 "The SpaceOAR device could be a positive treatment option for prostate cancer patients burdened with side effects after radiation therapy," said Professor Park Won of the Department of Radiology at Samsung Medical Center during a press conference celebrating the launch of SpaceOAR.
According to Park, although prostate cancer has a higher survival rate than other cancers, it is one of the cancers with many side effects.
"This is because radiation therapy can even affect the rectum, which is attached to the prostate," Park said. "According to the invasive radiation dose, various rectal side effects such as fecal incontinence, pain, bleeding, and diarrhea will appear."
Therefore, Park stressed that he has high hopes that SpaceOAR, recently launched by Boston Scientific Korea, will reduce the same side effects and prevent the deterioration of the patient's quality of life.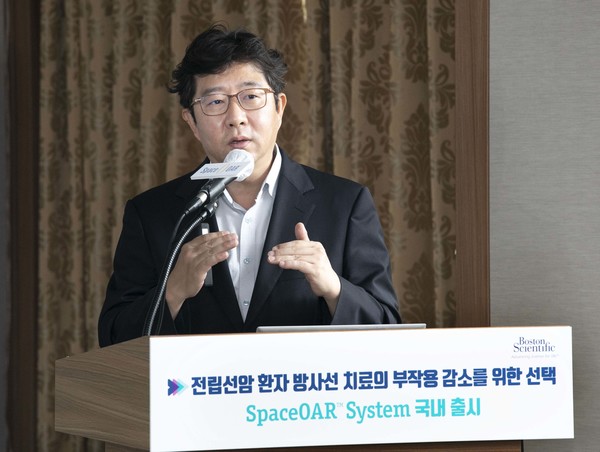 Professor Cho Jae-ho at Severance Hospital agreed.
"The goal of prostate cancer treatment is to maximize the therapeutic effect by using a high dose radiation therapy," Cho said. "Therefore, the goal of treatment is to increase the treatment efficacy while lowering side effects."
By using the SpaceOAR device, Cho stressed that he could reduce the acute side effects occurring within a month or two or chronic side effects occurring one to two years after radiation therapy.
Cho also explained that the SpaceOAR device could maintain radiation efficacy for about six months, which is longer than the conventional three to four months.
"My first case of the operation was successfully completed, and I have since conducted four additional cases of surgery, which also showed a good prognosis without serious side effects," Cho said. "While the current incidence of side effects through SpaceOAR is one to two cases out of 10, I still recommend the SpaceOAR system to patients as much as possible."
Meanwhile, Boston Scientific Korea received approval for the device from the Ministry of Food and Drug Safety in February.
The company stressed that it plans to complete reimbursement registration for the device within two years.
Copyright © KBR Unauthorized reproduction, redistribution prohibited