The domestic biopharmaceutical businesses' interests in digital treatment technology were "hot" if a recent industrial fair was any guide.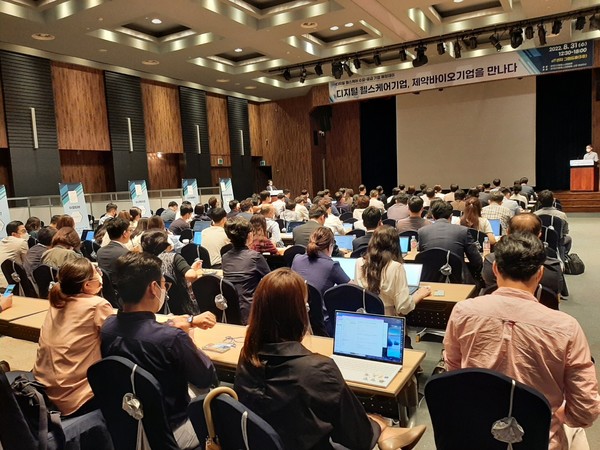 More than 100 industry officials from biopharmaceutical companies, medical institutions, and the digital healthcare sector participated in the "Digital Healthcare Matching Day for Demand-Supply Companies" at the aT Center in Yangjae-dong, southern Seoul, on Aug. 31.
The Korea Digital Health Industry Association (KODHIA) organized the event to provide an occasion for cooperation between supplying companies that have secured innovative digital treatment technology products and biopharmaceutical companies with a high demand for such products, according to association officials.
As intended by the organizers, many domestic and global biopharmaceutical company executives attended the event, showing keen interest in homegrown digital treatment technologies.
Among the domestic participants were GC Biopharma, Dongkook Pharmaceutical, Dong-A Socio Holdings, Dong Wha Pharm, Baskhanbio Pharm, Celltrion, Yuhan Corp., Samjin Pharm, Hyundai Pharm, and Ildong Pharmaceutical.
Many local offshoots of multinational drugmakers, including Sanofi Korea, Amgen Korea, Roche Korea, and Eisai Korea, also attended.
The event was divided into three parts, opened by a speech by KODHIA Chairman Kim Hyung-wook and greetings from Park Jae-young, director-general heading the manufacturing industry policy office at the Ministry of Trade, Industry and Energy (MOTIE).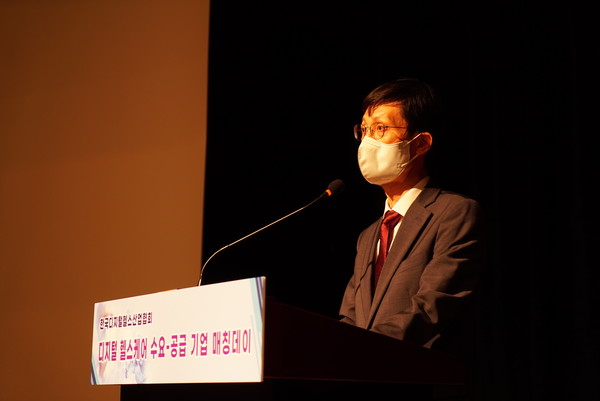 Digital healthcare companies, even though they have superior technology, products, and services, have experienced mismatching between supply and demand as there were limited companies that could pay for them. Therefore, the association prepared this event to promote cooperation between digital healthcare businesses with technological prowess and growth potential and companies keenly interested in securing such technology and services," Kim said, explaining the background for organizing the event.
"Digital treatment devices constitute the core of digital healthcare industry, which has high growth potential by treating diseases with software and promoting public health, Kim said he expects matching between digital treatment device manufacturers and biopharmaceutical companies in the digital healthcare industry where advances into heterogeneous industries are being made actively to contribute to the digital healthcare industry's growth and external extension," he said.
Kim added that the association would continue to hold similar events to create a win-win situation for digital healthcare's demand and supply companies and do its best to establish the event as a venue for collaboration.
Director-General Park emphasized the importance of digital treatment technology and expressed the government's support plans for it.
"Digital therapy devices are a key area of the digital healthcare industry. Compared to conventional drug treatments, they have fewer side effects and are made up of software, so they can supply large quantities quickly, resulting in massive economic impacts," Park said. "The Ministry of Trade, Industry, and Energy is drastically expanding its supporting budget to help speed up the development of digital treatment devices. This year, it has already drawn up and executed the budget of 9.8 billion won ($7 million), double that of last year, for the research and development of digital treatment devices."
To help Korean companies advance in the global digital healthcare service market, MOTIE organizes large-scale demonstration R&D projects with high industrial impact as preliminary feasibility projects, Park explained.
The government is pushing to build a basis for creating a digital healthcare industrial ecosystem and hopes the private sector will also actively reinvigorate the sector through the continuous development of services and expanding investment," he added.
In Part One and Two, 10 digital healthcare companies – Huray Positive, Innerwave, Hippo T&C, Neudive, HAII, WELT, Tech Village, BeauBrain, Digital Medic, and eMotiv -- introduced their latest digital treatment technologies and products, resolving curiosities on their backgrounds and current situations in a question-and-answer session. The companies introduced digital treatment technology for various diseases, including atopic dermatitis, depression, anxiety disorder, dementia, ADHD, and insomnia.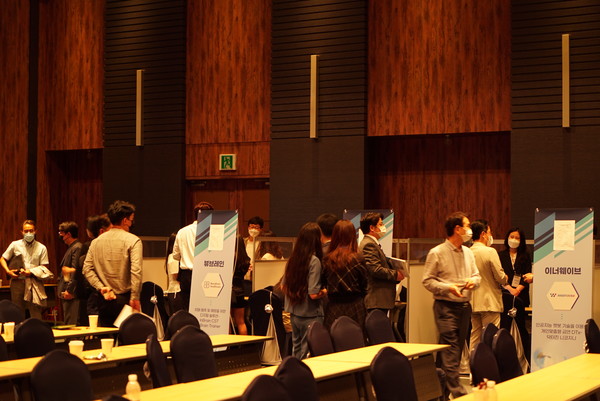 In Part Three, the organizers provided "matching time," during which biopharmaceutical company officials and investors met suppliers at the latter's publicity-counseling booths to discuss how to cooperate. Many supplying companies, including WELT, eMotive, and Digital Medic, met with biopharmaceutical business officials and found opportunities to push their collaboration.
"We have regretted the lack of opportunities to show our digital therapy technology. The 'Matching Day Event' got rid of such regrets," said an official from a supplying company. "It was a meaningful event as many visitors showed interest in us after our presentation."
A biopharmaceutical company executive said, "I didn't know that domestic digital therapy technology was so diverse and advanced. I was interested in the therapies for insomnia and atopic dermatitis. I found there will be much room for collaboration with them."
Copyright © KBR Unauthorized reproduction, redistribution prohibited