EOFlow, a wearable drug delivery solutions provider, said Wednesday it received marketing approval for EOPatch, its wearable insulin pump, from the United Arab Emirate (UAE) Ministry of Health and Prevention (MOHAP).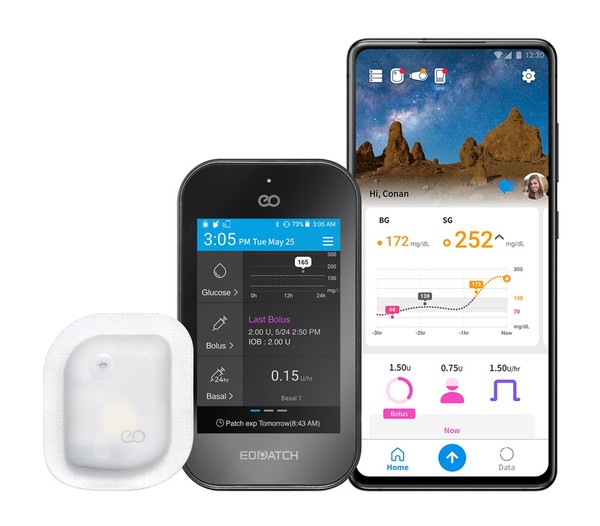 The company also obtained the nod for ADM, EOPatch's controller, and Narsha, its smartphone application.
The approval follows a previous contract signed in March between EOFlow and GulfDrug LLC, one of top pharmaceutical and medical device suppliers in the UAE, to supply 48.8 billion won ($40 million) worth of EOPatch for five years after approval.
With the permit, EOFlow will be able to sell its EOPatch insulin management system through online and offline distribution channels in the UAE.
GulfDrug plans to launch EOPatch in the second half of this year and implement various sales promotions to build product awareness.
GulfDrug plans to set the UAE as a sales base for the Middle Eastern market and apply for product approval of EOPatch in other Gulf Cooperation Council (GCC) members in 2023.
"With product approval from the UAE MOHAP, the company will be able to launch EOFlow into the Middle East market this year," EOFlow CEO Kim Jae-jin said. "Middle East has huge unmet needs for insulin patch pumps due to the lack of supplies despite its enormous market potential."
The company is moving quickly to secure the sizable markets faster than other competitors, he added.
Kim stressed that the growing population of diabetes is a global concern, and even in developing markets where competitors currently do not focus, the pain and urgent needs are great.
According to the International Diabetes Federation (IDF) data from 2019, approximately one in six adults (1.2 million) are living with diabetes in the UAE, a prevalence of 16.3 percent which is significantly higher than Korea's 6.9 percent and the world average of 8.24 percent.
The data also showed that diabetes and its complications account for 72.1 percent of main causes of death in UAE citizens under the age of 60, which suggests that most of the adult population is at risk of diabetes.
Copyright © KBR Unauthorized reproduction, redistribution prohibited