GC Labs said Monday that it welcomed three infectious disease experts from Ethiopia and Tanzania participating in its tuberculosis program (TB) as part of the 2022 Lee Jong-wook Fellowship Program for disease research specialists.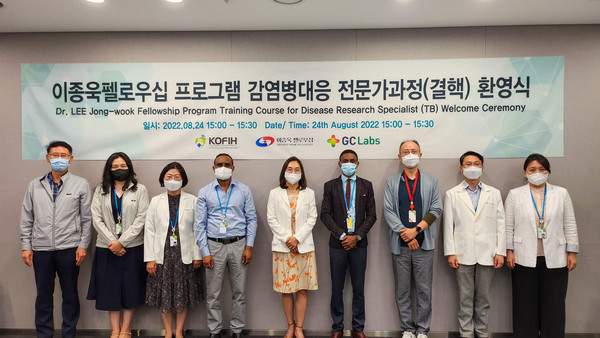 The "Lee Jong-wook Fellowship" is a training program provided by the Korea International Health and Medical Foundation (KOFIH), which educates health and medical personnel from developing countries to strengthen the capacity of healthcare personnel in developing countries. It was named after the late Dr. Lee Jong-wook, who served as the sixth secretary-general of the World Health Organization (WHO).
The infectious disease expert course will consist of theoretical and practical training from August to November.
Since its inception in 2007, the program has produced 1,147 graduates from 30 countries. The graduates play a central role in strengthening the global health system by spreading knowledge in their local environments and linking cooperative projects through the KOFIH Global Alumni (KGA).
GC Labs also promotes official development assistance (ODA) projects for developing countries. Particularly, it will invite officials from Uganda's Supranational Reference Laboratory (SRL), including 2021 course graduates from 33 countries and networks in East Africa, to an expanded online seminar to increase training effectiveness and sustainability, and strengthen local networks.
"We are very excited to celebrate our 40th anniversary by launching the Lee Jong-Wook Fellowship Program for the second consecutive year with a full-fledged global expansion and international cooperation," GC Labs Chairman Lee Eun-hee said. "As the representative diagnostic institution of Korea, we will continue to contribute to strengthening the capacity of health care personnel in developing countries and actively support trainees to grow into experts in the diagnostics field."
The trainees said they were grateful that GC Labs had allowed them to see and learn the latest diagnostic technologies and theoretical and practical experiences with KOFIH's support, vowing to contribute to eradicating infectious diseases in their respective fields.
Copyright © KBR Unauthorized reproduction, redistribution prohibited