The U.K. became the first country to authorize the use of Moderna's Covid-19 vaccine, which targets two different Covid-19 variants.
On Monday, the U.K.'s Medicines & Healthcare products Regulatory Agency (MHRA) approved Moderna's Covid-19 booster vaccine for adults. The bivalent mRNA vaccine targets the original virus from 2020 and the Omicron variant.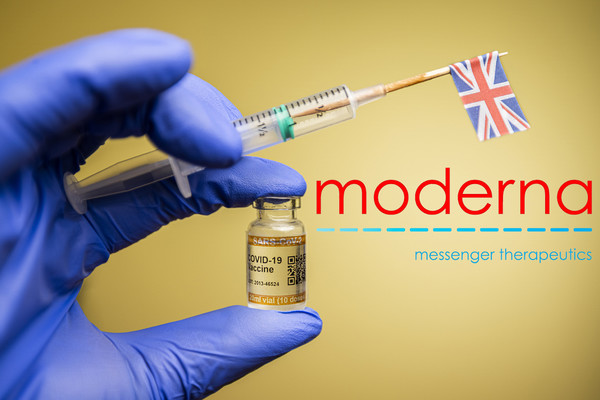 Citing clinical data, MHRA said Moderna's bivalent vaccine triggered a strong immune response against Omicron sub-variants BA.4 and BA.5, too.
Regarding safety, MHRA said adverse reactions were similar to those reported from the original Moderna booster dose. However, they were "typically mild and self-resolving, and no serious safety concerns were identified."
MHRA Chief Executive June Raine said the first generation of Covid-19 vaccines used in the U.K. continue to provide significant protection against the pandemic and save lives.
"What this bivalent vaccine gives us is a sharpened tool in our armory to help protect us against this disease as the virus continues to evolve," Raine said.
Professor Munir Pirmohamed at the University of Liverpool, the Commission on Human Medicines chair, an independent expert scientific advisory body, said the Covid-19 virus kept evolving to evade the immunity generated by vaccinations.
He added that the new bivalent vaccine would show its ability to induce a broader immune response than the original vaccine.
Stéphane Bancel, CEO of Moderna, said that mRNA-1273.214 (the bivalent vaccine) has consistently demonstrated a stronger immune response over mRNA-1273 in clinical trials.
"This bivalent vaccine has an important role to play in protecting people in the U.K. from Covid-19 as we enter the winter months," he said.
Copyright © KBR Unauthorized reproduction, redistribution prohibited