A Korean medical group's investigation revealed that the Covid-19 vaccination could have affected the onset of deep vein thrombosis (DVT) or cerebral venous sinus thrombosis (CVST). In addition, the group said that menstrual irregularities and abnormal uterine bleeding (AUB) were related to the Covid-19 vaccination.
On Thursday, the National Academy of Medicine of Korea's (NAMOK) Covid-19 Vaccine Safety Committee announced the results of their third causality evaluation of adverse reactions after Covid-19 vaccination.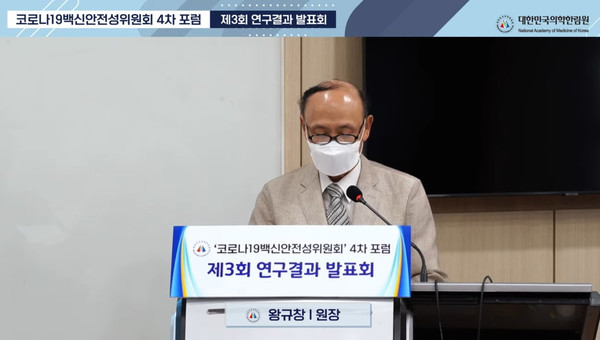 According to the report, the incidence of thrombotic diseases, including DVT, slightly increased after inoculation with Pfizer's Covid-19 vaccine. However, the outcome was the opposite of studies in other countries, raising the possibility of overdiagnosis.
The incidence of DVT increased by 1.22 times, portal vein thrombosis (PVT) by 1.25 times, and pulmonary embolism by 1.29 times, during the "risk period" of 21 days after vaccination with Pfizer's vaccine, the NAMOK's report said.
Professors Jung Jae-hun of preventive medicine at Gachon University College of Medicine and Kim Kye-hun of cardiology at Chonnam National University, who conducted the study, said further analysis on Pfizer's Covid-19 vaccine was needed.
"Most overseas studies said Covid-19 vaccination did not raise the risk of venous thromboembolism, and there is no causality report on mRNA vaccines," Kim said.
Jung noted that the incidence of thrombotic diseases did not increase after vaccinations of all Covid-19 vaccines but that after Pfizer vaccination was contrary to the results of overseas studies.
He said that Korean physicians could have overdiagnosed thrombotic diseases after vaccination, adding that further analysis was necessary.
Covid-19 vaccination also elevated the risk of CVST in the 30-49 and 50-64 age groups and women.
Ahn Sang-jun, a professor of neurology at Catholic Kwandong University International St. Mary's Hospital, said there was a statistically significant increase in the risk of CVST after the Covid-19 vaccination.
"But these results should be interpreted with caution, given the research limitations such as unclear accuracy of diagnosis," he said.
The report evaluated the causal relationship between AUB and Covid-19 vaccination as an "acceptable level" because the increased risk of AUB incidence was statistically significant in an epidemiological study.
The epidemiological study was on those with frequent menstruations and uterine bleeding symptoms.
"Regardless of the vaccine type, AUB cases appeared significantly. By combining the latest study results and literature review, we concluded that the causal relationship between the Covid-19 vaccine and AUB was at an 'acceptable level,'" said Choi Nam-Kyong, a professor of health convergence at Ewha Womans University.
Professor Choi Si-hyun of obstetrics and gynecology at Gangnam Severance Hospital said there was little evidence to accurately identify the causal relationship between Covid-19 vaccines and AUB.
However, considering several surveys and epidemiological studies, he noted that the risk of AUB seems to have increased after vaccination, which was statistically meaningful.
"The latest study confirmed only frequent menstruations and bleeding-related risks in a short time. So, we need additional research on other symptoms, too," he added.
Copyright © KBR Unauthorized reproduction, redistribution prohibited