Huinno, a digital healthcare firm, said Friday the Ministry of Food and Drug Safety (MFDS) chose the company to provide technical support for a national project to adopt the international standards on the quality control of the latest medical devices.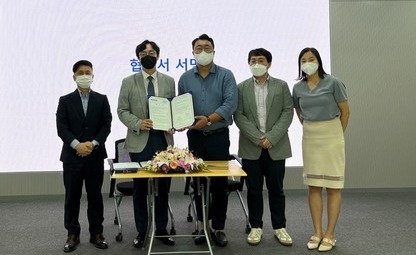 The project is jointly organized by Seoul National University Hospital and Daegu Gyeongbuk Advanced Medical Industry Promotion Foundation and sponsored by the MFDS.
The project aims to improve the quality control level and strengthen the competitiveness of medical device companies through customized support for their introduction of the latest good manufacturing practices (GMP).
At a ceremony held on Thursday, participating organizations promised to establish a mutual cooperation system for smooth implementation of the technical support and discussed the latest international standards for medical device quality management.
At the event, Huinno CEO Gil Yeong-joon introduced the U-Healthcare electrocardiogram (ECG) and software technology with the company's key product, Memo Patch.
"This is meaningful because our product can be used as an example for the MFDS and Seoul National University Hospital Conformity Assessment Center to develop guidelines," said a Huinno official. "It will be an opportunity to collaborate with industry experts to create documents that meet international standards while receiving practical feedback from physicians, clinical pathologists, and patients on Memo Patch."
Meanwhile, Huinno's vision is to improve medical efficiency through the development of wearable medical devices and analysis of bio-signal big data.
Huinno signed a deal with Yuhan Cor. in April to market its first commercialized medical device, Memo Patch, in Korea and overseas.
Copyright © KBR Unauthorized reproduction, redistribution prohibited