Bukwang Pharmaceutical its subsidiary Dyna Therapeutics obtained a composition patent for SOL-804, a prostate cancer drug candidate, in Korea and Japan.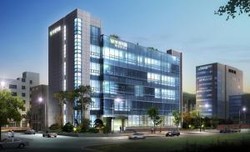 With the additional two patent registrations, Dyna has completed the patent registration in 32 countries including the U.S., Australia, Mexico, and Singapore.
"We expect to quickly commercialize SOL-804, an incrementally modified drug (IMD)," a company official said. "The treatment along with lurasidone, a treatment for schizophrenia and bipolar depression, which has recently drawn successful results in clinical trials, will be a major part of our sales growth."
Also, as the company has finished patent registration in most major markets, global sales of SOL-804 are expected to be robust, he added.
In 2016, Dyna Therapeutics acquired the worldwide development and distribution rights of SOL-804 from Solural Pharma, a Denmark-based pharmaceutical company, and has been working on the treatment since.
SOL-804 is an IMD that aims to improve drug absorption and food-drug interaction, which have been weaknesses of existing treatments of metastatic castration-resistant prostate cancer.
In a recent phase 1 clinical trial published in March, the company confirmed significant pharmacokinetic properties for low-dose SOL-804 compared to the existing drug Zytiga. The company aims to apply for an additional clinical trial this year.
According to Bukwang, the global prostate cancer treatment market surpassed about 12 trillion won ($1 billion) in 2019 and is expected to grow to about 23 trillion won in 2027.
Copyright © KBR Unauthorized reproduction, redistribution prohibited