[Interview with expats in Korea's medical industry ②]
Medical IP's Assistant Manager, Joseph Witanto
"I was particularly impressed about the company's mission to save lives. I believe it is more fulfilling to work in the medical field to save other people, like doctors."
So said Joseph Witanto, 27, an assistant manager in Medical IP's research and development (R&D) division, in a recent interview with Korea Biomedical Review.
Witanto comes from Indonesia where he attained a bachelor's degree in Informatic Engineering at Petra Christian University. He later came to Korea to pursue a master's degree in Computer Engineering at Dongseo University in Busan in 2017. After graduating, he joined Medical IP where he has built his career for approximately three and a half years.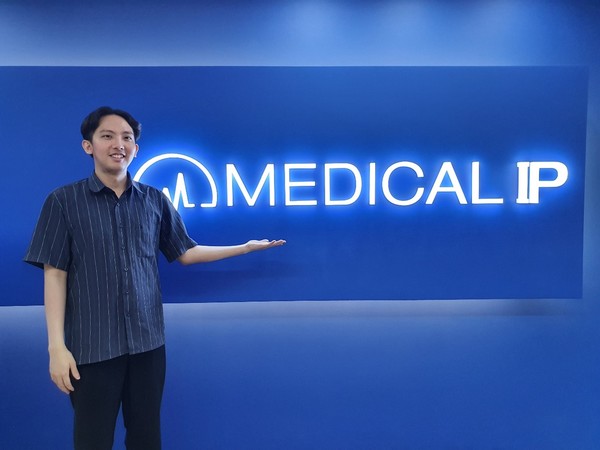 Unravelling what inspired him to pursue studies in computer science, he shared, "Computer was always the subject that I felt the most confident about and could enjoy the most. Since the internet was rapidly expanding during this time, jobs in the field of web development and programming became more attractive to me." Furthermore, he highlighted the important role his parents played in supporting his decision to come to Korea to continue studying Computer Engineering as Korea was and still is a leader in this field.
Although Witanto's research at Busan focused on general artificial intelligence (AI) applications, Witanto revealed his reason for choosing Medical IP.
"My senior recommended this company to me, and I was particularly impressed about its mission to save lives. While there are many industries that require AI, I believe it is more fulfilling to work in the medical field to save other people, like doctors."
Joseph described a typical day at work in the R&D department which starts by checking the training progress of the deep learning algorithm which is often left running overnight. After the network is fully trained, he then proceeds with validation and subsequently writes a report to contribute to the method and results of the joint research with domestic and foreign universities.
"In our weekly meetings, each member of our team usually takes turns sharing an interesting journal article, similar to a laboratory environment."
Due to the medical nature of the job, he mentioned, "It is quite refreshing to collaborate with medical practitioners and not just computer engineers to receive suggestions on how best to segment the liver or the appropriate criteria for diagnosis."
On the flipside, he admitted that the job can become pretty tedious when debugging the network while training the algorithm. Despite this, he reaffirmed it is a very rewarding experience to finally achieve the end result.
When asked about the pros and cons of Korea's medical AI industry, Witanto explained that deep learning usually requires large amounts of data but due to Korea's well-developed medical system and public health insurance, the accumulation of large data sets is not as difficult. He added, "It is therefore easy to see the fruits of my labor directly translated into real clinical use in the hospitals."
For example, his company is well-known for creating "digital twins" from the scans of real medical images of patients. It can help doctors rehearse surgical plans more precisely and patients can understand surgical risk better. It also helps medical students better understand difficult medical concepts. Witanto also said, "It's quite exciting to work here because of the sheer amount of research continuously conducted in the medical AI field in Korea."
Regarding the cons of Korea's medical AI industry, he mentioned that as the Korean government strives to protect the personal information of patients, there are strict regulations which sometimes makes it difficult to access the required data. "However, thanks to Medical IP's competitive advantage as a spin-off company of SNUH Ventures and advisory doctors from major hospitals in Korea, we usually bend much less efforts to obtain IRB approvals than other companies and researchers."
Concerning the difficulties of working in a Korean environment, he replied, "Since my team is more on the technical side, there are no strict language requirements particularly as 90 percent of the work entails programming." Still, he was quick to add that knowing Korean is beneficial for effective communication with other professors, researchers, and teammates alike.
Furthermore, Witanto said he was not the only foreigner with two other Indonesians in his company, including one in his team. However, he modestly admitted that there were no language barriers within his team as he learnt the language before coming to Korea. Impressively, he has achieved the highest level of Korean proficiency, but all his Korean skills are self-taught as he never attended Korean classes except for the Korea Immigration and Integration Program (KIIP).
Referencing his biggest accomplishments at the company, he quickly remarked about his contributions in four papers with Medical IP.
Specifically, he said he was proud of his international conference paper submitted for the Radiological Society of North America (RSNA) as his team managed to meet a tight deadline.
This was particularly memorable for Witanto as he was able to attend the conference in Chicago and experience informative seminars right before the Covid-19 pandemic pushed seminars online.
Regarding future plans, Witanto expressed his wish to continue contributing to the global medical industry through verified medical deep learning network research with Medical IP.
"I think the possibilities with the convergence of medical data and deep learning networks are endless so I am excited to see where this career can take me in the next five to ten years." Witanto remarked enthusiastically.
Related articles
Copyright © KBR Unauthorized reproduction, redistribution prohibited