Korean researchers said they found the clinical and immunological effects of Covid-19 in severe asthma patients.
The research team, led by Professor Lee Yong-chul and Jeong Jae-seok at the Research Center for Pulmonary Disorders of Jeonbuk National University Hospital, published the study in the online edition of Allergy.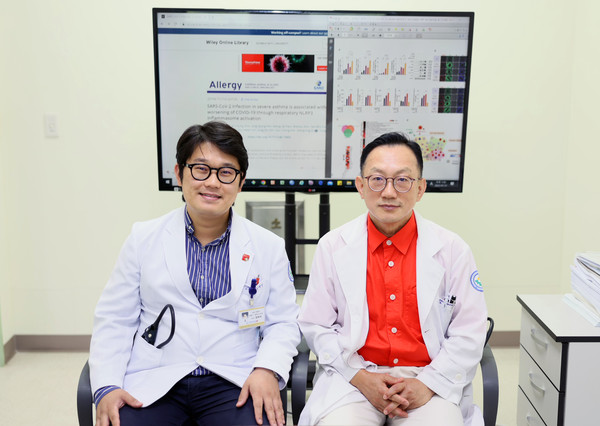 The research team established the world's first animal experimental model for severe bronchial asthma infected with Covid-19 using the state-of-the-art zoonosis institute at Jeonbuk Naional University with the veterinary college's research team led by Uh Sung-guk.
They found that catching Covid-19 at a severe asthma state not only worsened chronic airway inflammation but also the inflammatory pathway related to Covid-19.
The researchers proved that activation of NLRP3 inflammasome, which is known as the core component of inherent immunity for severe asthma, was the major cause for negative progress on Covid-19 in asthmatic patients with severe symptoms, using transcriptome method in the experiment model.
Also, the research team re-verified the findings through a study of Covid-19 patient's sample analysis including diverse nationals and ethnicities, in collaboration with Ewha Womans University's research team led by Professor Kim Wan-gyu and Professor Ko Gyu-young's research team from Korea Advanced Institute of Science and Technology (KAIST).
In addition, the research team collaborated with Professor Kim Jong-seong of medical informatics division at Jeonbuk National University College of Medicine and ultimately proved the research results through a large-scale national cohort provided by the National Health Insurance Service.
Copyright © KBR Unauthorized reproduction, redistribution prohibited