[Interview with expats in Korea's medical industry ①]
Lauren Kaye, VUNO's Senior Manager of Global Strategy and Planning
Korea's bio-industry is experiencing rapid growth, and the medical AI industry is no exception.
Few other companies illustrate this trend better than medical AI startup VUNO. Since its founding in 2014, the company has quickly transformed into an international name.
However, despite Korea's increasing global presence in the medical industry, foreigners working in this field in Korea still appear few and far between. One of them is Lauren Kaye, VUNO's Senior Manager of Global Strategy & Planning.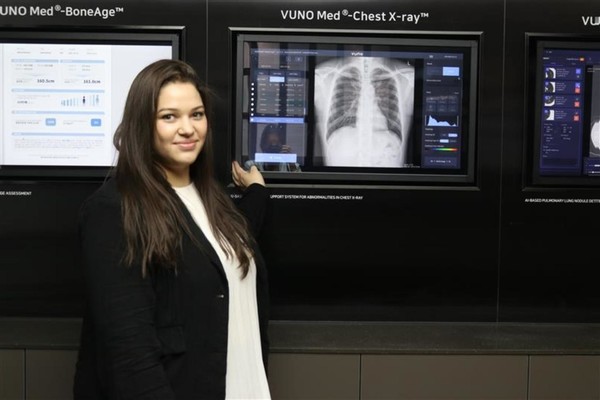 An American born to a Panamanian mother and American father, Kaye is no stranger to a multi-cultural environment, as she grew up, studied, and worked in more than a few countries. As her father worked as a trade lawyer in Chile with occasional business in Korea, she lived in Chile for 10 years. Later, she studies international business and management and East Asian studies with a focus on China and South Korea at Dickinson College.
"I also did an exchange semester at the School of Business and Economics at the Underwood International College of Yonsei University while simultaneously interning at Deloitte Anjin," Kaye said in a recent interview with Korea Biomedical Review. "My experiences as an exchange student seem to have influenced my return here to embark on a new journey with VUNO."
Kaye described her role in business development and global partnership management at VUNO. In this role, she often has to juggle various tasks, to support marketing initiatives, identify key global accounts, and manage new relationships on behalf of VUNO.
"For example, VUNO launched its new U.S. office on Monday, so a lot of the communication between the Korean and the U.S. office also falls under her purview as the company continues expanding its product portfolio and market size," Kaye said.
Detailing her past experiences, Kaye noted that she previously worked at Deloitte as a management consultant specializing in healthcare in the U.S. There, she focused on helping clients transform the way they deliver care, improve operational efficiencies, and implement digital solutions like the electronic health records (EHR).
While doing that work, she looked to Korea as a hub of innovation and disruptive technologies, especially in the digital health arena. However, it was during her days as an exchange student at Yonsei University that first drew her to Korea.
"It's very exciting to return to Korea in a professional capacity where I can leverage my experience in strategy and the U.S. healthcare ecosystem to help VUNO and Korea's medical technology penetrate global markets," Kaye said
As Kaye's work, education, and upbringing were all global, she attributes this diverse background as a key factor that helped her transition into her current role, where she regularly identifies international partners and engages with them to discuss business opportunities for VUNO.
'Time to jump on Korea's medical AI bandwagon'
Asked about the difficulty settling into a Korean work environment, Kaye said, "Maybe it's VUNO's startup culture, but I didn't experience a huge adjustment period."
She noted that VUNO does not have a traditional hierarchical organization like typical Korean companies, so the work environment is more casual, encouraging more open communication among all employees regardless of job title.
Kaye admitted that meetings are often held in "Konglish," as it is sometimes difficult to express her ideas fully in Korean.
"I genuinely appreciate these efforts because I know my colleagues are doing this to ensure I feel comfortable and can contribute my thoughts during meetings," she said. "Still, it is important for me to try to speak as much Korean as possible to meet my colleagues halfway."
Characterizing her work at VUNO, Kaye said, "I enjoy being able to collaborate with peers from different professional backgrounds and work in cross-functional teams that allow everyone to participate and showcase their skills in a meaningful way."
Kaye offered some advice for foreigners wishing to pursue a similar career path in Korea as an expert in her field.
"Although experience plays a major role in landing the desired position, I believe it's more important to market yourself by leveraging your unique experiences and the value you can add to the company," she said.
Pointing out that medical AI is dramatically changing with new technologies developed daily to help medical practitioners close gaps across the healthcare spectrum, Kaye said, "As Korea's medical AI industry continues to flourish, I think now is the perfect time to join and be a part of this change as companies expand overseas."
Regarding her future goals, Kaye said she primarily focuses on developing and supporting VUNO's market entry into key regions, including the U.S. and Latin America. "In addition to helping VUNO build its U.S. operations, I also want to establish and grow our presence in Latin America (LATAM) since I lived there," she said
Despite the slower adoption rates in the LATAM region, Kaye thinks the potential for positive impact is quite large and therefore worth exploring as she expressed her hope to one day educate end-users and drive "real-world" clinical application of diagnostic imaging AI solutions to address gaps in healthcare resources in the LATAM region.
"I have only been at VUNO for a little over a year now, and I believe there is still a lot for me to accomplish here," Kaye said. "I also realized through this interview that I would like to build a community for foreigners working in Korea's medical industry where we can exchange ideas and support each other further to expand Korea's global reach in the medical arena."
Related articles
Copyright © KBR Unauthorized reproduction, redistribution prohibited