Novartis Korea said Tuesday that it obtained permission from the Ministry of Food and Drug Safety on June 9, to market Scemblix to treat adults with chronic myeloid leukemia who had received two or more tyrosine kinase inhibitors (TKI).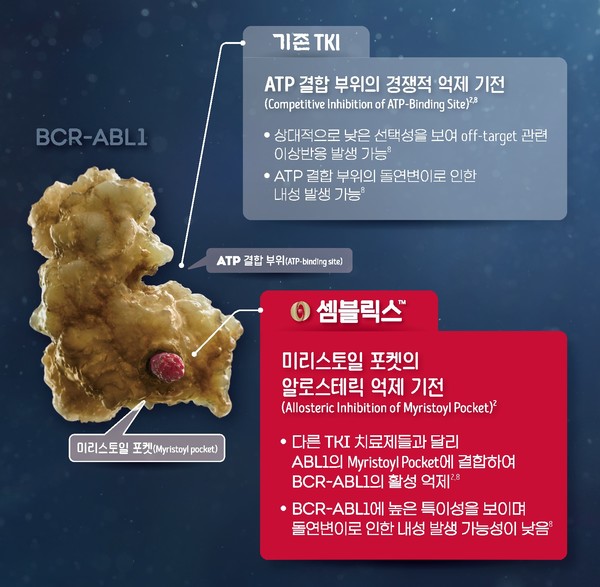 Chronic myeloid leukemia is a malignant blood disease caused by the process of myelocytes making white blood cells, which progresses slowly to acute leukemia if untreated. An enlarged spleen and frequent infections and bleeding can occur in such cases.
Currently, TKI is used in treating chronic myeloid leukemia patients. However, treatment can be limited due to intolerance or resistance, and the failure rate increases as the number of treatments increases. Studies have shown that up to 70 percent of patients in the secondary treatment group did not achieve major molecular response (MMR) within two years.
Conventional TKI tended to develop resistance due to mutations in ATP binding sites.
Scemblix is the first and only STAMP (Specifically Targeting the ABL Myristoyl Pocket) inhibitor to suppress the activity of the BCR-ABL1 gene, the root cause of white blood cell proliferation, according to Novartis Korea.
Consequently, Scemblix is expected to be the optimal treatment for patients with insufficient therapeutic effects for existing treatments, it said.
The ministry gave the nod as the phase 3 trial had proved clinical usefulness and safety profiles in patients with chronic Philadelphia chromosomal-positive chronic myeloid leukemia who received at least two TKI treatments.
This study found that the MMR ratio at week 24 in the Scemblix administration group was 25 percent, approximately double the control group's 13 percent. Even the discontinuation rate due to adverse reactions was reduced by about a quarter of the control group's 21.1 percent, and the safety profile was also confirmed.
Long-term follow-up studies identified consistent clinical usefulness and safety profiles in long-term administration, with 37.6 percent of the Scemblix administration group at week 96, more than doubling from 15.8 percent of the control group.
"Chronic myeloid leukemia patients take targeted anticancer drugs for life, so developing treatments overcoming this difficulty is important," Professor Kim Dong-wook of Eulji University Hospital said, "Scemblix is expected to open the next chapter in treating chronic myeloid leukemia in Korea."
Copyright © KBR Unauthorized reproduction, redistribution prohibited