"The paradigm in healthcare services shifted toward patient-centered care. As a result, the results of patient experience evaluation will directly affect the profits of medical institutions and all medical indices. Therefore, patient experience evaluation will grow more in the future."
So said Kim Sae-chul, president of the Korean Society of Healthcare Design (KSHD), at an online event on Tuesday to celebrate the publishing of the book "Focus on Patient Experience," authored by the KSHD and published by The Korean Doctors' Weekly. Kim is also the director-general of Myongji Hospital.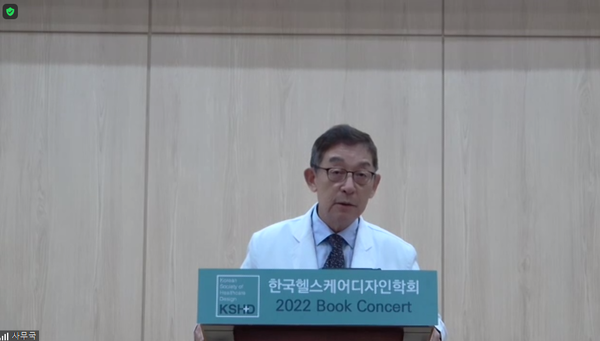 Evaluation of patient experience measures a hospital's medical services, such as whether doctors respect patients and provide care that meets the individual patients' needs, preferences, and values.
The government has required 100 beds or more medical institutions to get patient experience evaluation since May 2021. After that, the government pays different subsidies to hospitals, depending on the results.
As patients' demands for hospitals and doctors grow, patient experience evaluation will become more crucial in the future, Kim said.
"Healthcare innovation takes place thanks to the advancement of science and technology. Still, the number of medical disputes rises every year. Most of the disputes occur because doctors fail to explain to patients sufficiently," Kim said. "Despite innovation in medical care, patients are increasingly unhappy because their demand has grown."
In the past, for example, an inpatient used to be grateful for receiving an extra blanket, but now, patients tend to complain that hospital staff left without covering them with it, Kim went on to say.
"Any patient can now access a medical website to get the latest medical technology and information, so the quantity and quality of information held by patients have greatly changed," he said. "This is why hospitals post patient's rights on their websites."
Kim noted that physicians' attitudes were the most closely related to patient satisfaction among many factors such as physicians' skills and attitudes, hospital facilities and environment, user convenience, and medical expenses.
He emphasized the need for educating doctors on patient experience evaluation.
"People generally assume that hospital environment and facilities need to be improved to raise patient satisfaction. But the more important thing is doctors' attitudes," Kim said. "This applies to all kinds of medical institutions."
Suppose a doctor communicates with a patient with a focus on the patient. In that case, the patient will more likely reduce smoking and drinking as told by the doctor, exercise regularly, and become better at self-management.
According to Kim, when hospitals introduced the patient experience evaluation system, hospital operators used to wonder what the system had to do with revenue.
However, as hospitals made a steady effort to improve the service quality, hospital directors could accept that patient experience was closely related to the hospital's survival, he said.
He also called for doctors and medical institutions to endeavor to make better patient experience evaluation tools.
Copyright © KBR Unauthorized reproduction, redistribution prohibited