The Ministry of Food and Drug Safety (MFDS) said Tuesday it has developed a pulse wave simulation device by applying "human body-imitating technology" to minimize device errors in sphygmographs that measure blood vessel pulsation.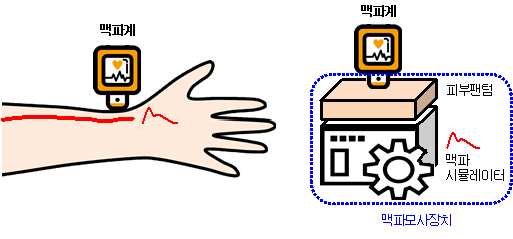 A pulse meter measures pulses in blood vessels to predict vascular stiffness and arrhythmias. It is mainly used on the wrist and was recently applied to smartwatches.
Subsequently, a pulse simulator is an evaluation tool that mimics the wrist pulsation to evaluate the performance of the pulse meter. It comprises a skin phantom that reproduces the physical properties of wrist skin and a pulse simulator that generates wrist pulsations.
The device can simulate the human body, similar to a clinical trial. Thus, the performance of a medical device can be evaluated as if it were applied to the human body from the development stage so that highly accurate medical devices can be developed quickly.
The ministry has continuously conducted joint public-private research to develop standards and requirements as no internationally recognized standards for pulse wave simulators exist. Accordingly, it is preparing to propose these standards and requirements jointly developed with the private sector to the International Standards Organization (ISO).
If those standards and requirements developed in Korea are adopted as international standards, it can help increase the export of high-quality medical devices in Korea, ministry officials said.
The international standard will include detailed implementation of pulse pressure, the difference between the minimum and maximum blood pressure, pulse rate, the number of times heart relaxation and contraction occurs in one minute, and finally, the pressure the pulse meter exerts on the measurement area.
The pulse wave evaluation test method researched and developed by the ministry was registered as an international standard (ISO 18615:2020) in 2020.
"The government will continue to do our best to supply high-accuracy and safe medical devices based on regulatory science and ensure safe use for the public," the ministry said, "We will also take the lead in international standardization of domestic performance evaluation methods and test methods to help domestic medical devices enter the global market."
Copyright © KBR Unauthorized reproduction, redistribution prohibited