The Yonsei University College of Medicine (YUCM)'s Institute of Tropical Medicine hosted the 45th Tropical Medicine Symposium as an online meeting on Saturday to discuss ways to respond to various infectious diseases.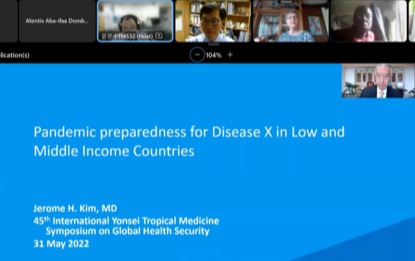 Six infectious disease experts gave lectures to about 50 participants on global health security in times of international public health emergencies, including Covid-19 and monkeypox, and some neglected tropical diseases (NTDs).
Dr. Katalin Kariko, who developed the Covid-19 mRNA vaccine, shared the development process of mRNA treatments dating back to 1961.
Kariko explained that the main problems with the mRNA platform were its instability, inflammatory response, and inability to reach the intended site before degradation, resulting in small amounts of protein translation for effective therapies.
However, researchers could overcome these hurdles through the continuous research efforts of her and many scientists by using lipid nanoparticles (LNPs) for improved mRNA delivery together with nucleoside-modified uridines to reduce the inflammatory response.
She added that the success of the mRNA Covid-19 vaccine was already accelerating clinical trials for cancer and influenza vaccines.
Dr. Jerome Kim, director-general of the International Vaccine Institute (IVI), also shared eight lessons from Covid-19 so that low- and middle-income countries can be better prepared for the next pandemic.
Kim pointed out that funding enabled rapid innovation and scalability of the vaccine but also caused inequitable distribution. Consequently, the failure of COVAX to produce equitable vaccine distribution led to a high global cost with exacerbated economic consequences due to long periods of lock-downs.
He explained that Korea is positioned to be a vaccine leader as it has invested in this industry and was recently designated as a WHO bio-hub, adding that lower-income countries need to focus on strengthening their health system so that vaccines can be better distributed to their population.
Laura Hawken, a former WHO official and public health expert, further elaborated on strengthening health systems, referencing Dr. Kim's earlier message that, "Impact is about delivery, and delivery is about implementation."
Therefore, health system strengthening implementation requires better management of resources while monitoring the objective and considering multiple factors like service delivery, efficiency, access, accountability, equity, and bias, among others, she emphasized.
Professor Yong Tai-soon of the Institute of Tropical Medicine presented on NTDs, emphasizing parasitic infections.
He noted that NTDs are often overlooked but can make diseases like HIV/AIDs more deadly. In the case of Ascites infection, it can lead to gradual bile duct damage, eventually ending in a slow but silent death by cancer.
Yong added that while treatments are easy for some parasitic infections, reinfection will often occur until a change in environmental hygiene is made to reduce further infection. However, this is often difficult in low-income countries, which reemphasizes the need for health system strengthening.
Dr. Kim Ju-yeong of the Institute of Tropical Medicine revealed the latest academic knowledge of metagenomics in infectious disease response. He concluded that using 16S amplicon and 18S amplicon next-generation sequencing (NGS) technology could detect all bacteria, fungi, and parasites with just one test. Thus, time, money, and labor can be saved in diagnosing pathogens in the future.
Dr. Antoine Nkuba, an Ebola expert, spoke about the present monkeypox transmission cases with regards to cases in the Democratic Republic of Congo. Currently, the exact mechanism of disease transmission is unknown but based on confirmed cases, transmission is suspected through close contact, mainly through the exchange of sexual fluids, Nkuba said. However, he assured other participants that monkeypox infections are not expected to escalate to the Covid-19 level, so global concern is unwarranted.
Copyright © KBR Unauthorized reproduction, redistribution prohibited