The organizers of the first International Virus and Bacterial Industry Expo in Korea have recently signed a business agreement with the Association of American States Offices in Korea (ASOK) for the successful hosting of the event.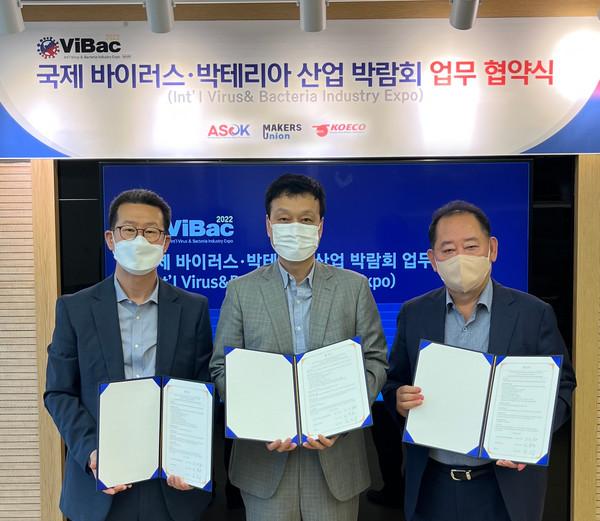 The Int'l Virus & Bacteria Industry Expo is the first such event to be held in Korea. Under the agreement, ASOK will encourage companies in 19 U.S. states to participate in the expo. It will also hold investment explanation meetings for booth-operating companies.
The organizers – Makers Union and Korea Exhibition Company (KOECO) -- will provide booths and promote joint promotional activities for this event.
ASOK is a non-profit organization established in 1989 in affiliation with the Ministry of Trade, Industry and Energy. Currently, it has Korean offices in 19 U.S. states, including Oregon, Florida, Pennsylvania, and Washington. It carries out projects to promote economic exchanges, such as investment, trade, culture, tourism, exchange, and technology.
More than 100 Korean and foreign companies are scheduled to participate in the International Virus and Bacteria Industry Expo at COEX in Seoul from July 18-19. The organizers said that the participants would display a wide range of products and research in five major areas, including diagnostic and disinfection equipment, biopharmaceutical, microbial utilization, and research and development related to biogenetic analysis equipment.
Copyright © KBR Unauthorized reproduction, redistribution prohibited