Siemens Healthineers said Friday it would participate in the 24th International Congress of Clinical Chemistry and Laboratory Medicine at IFCC WorldLab Seoul 2022 from June 26-30 as a "gold sponsor."
It is the first time Korea will host the conference of about 50 global businesses, which will be held in a hybrid format as Covid-19 has not ended yet.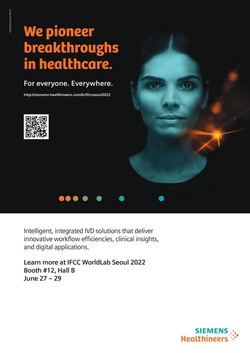 At the conferene, Siemens Healthineers will showcase its unique diagnostic testing technical capabilities by showcasing its comprehensive product portfolio, from the point of care (POC), hematology testing, and IT solutions, including the immune clinical chemical automation solution Atellica SCI to the exhibition booth.
It also will introduce two new products – Astellica Hema 580 and Astellica VTLi.
Astellica Hema 580 focuses on customer convenience and can be connected alone or between modules. It can perform tests using dedicated or automated track connections, making it an optimal device for any diagnostic laboratory environment. Furthermore, the company said the Diff test items were enhanced to expand their clinical usefulness.
Atellica VTLi can conduct heart tests on the spot, and the high-sensitivity troponin I item will be available for testing. It does not require a pretreatment process such as centrifugation, and the test results are derived in about eight minutes, with results transmitted directly and wirelessly to the hospital computer.
The two-day workshop on Monday and Tuesday will feature presentations from Korean experts, including Professor Yun Yeo-min of the Department of Laboratory Medicine at Konkuk University Hospital and Professor Lim Jong-baeck of the Department of Laboratory Medicine at Yonsei University Health System, to discuss the latest trends and insights on high sensitivity troponin cardiac assays, enhanced liver fibrosis, and free light chain testing.
"We are happy that Korea finally hosts the IFCC event by inviting medical professionals from around the world," said Han Hee-chul, the head of Siemens Healthineers' diagnostic business division. "I hope it will offer an opportunity to discuss and communicate with customers about industry trends and major issues together."
More detailed information about this conference can be found on the website: https://www.siemens-healthineers.com/kr/ifccseoul2022
Copyright © KBR Unauthorized reproduction, redistribution prohibited