Four Korean companies – VUNO, Lunit, Deepnoid, and SK C&C – signed a memorandum of understanding to launch a medical artificial intelligence alliance, jointly creating a medical AI ecosystem and making other business cooperation, VUNO said Thursday.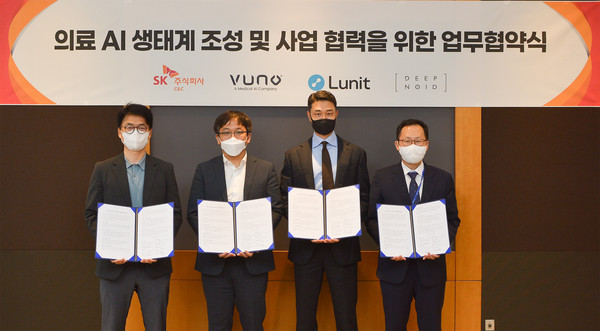 Through this MOU, VUNO said it plans to revitalize the market by cooperating with its partners in joint sales and marketing medical AI solutions.
Their cooperative products include VUNO's AI-based brain quantization medical device, VUNO Med–DeepBrain, and other partners' AI solutions for chest, breast, and spinal diseases. The four companies will develop the products as a packaged deal and promote customized offerings so that medical institutions can easily select and adopt them anytime.
The medical AI alliance also aims to increase compatibility between medical AI solutions of each company and form differentiated products according to the size of medical institutions and specialized medical subjects. They also plan to share global industry and technology trends in the medical AI field and strive to create and spread the ecosystem by establishing a professional medical AI council composed of external experts.
"Our cooperation is significant because it further enhances the competitiveness of the domestic medical AI industry and contributes to reinvigorating the industrial ecosystem." VUNO CEO Lee Ye-ha said.
VUNO Med DeepBrain, included in the medical AI alliance product line, is an AI medical device that analyzes brain magnetic resonance imaging (MRI) based on deep learning, divides more than 100 brain regions into more than 100 parts, providing information that quantifies the degree of atrophy of each region within a minute, according to the company.
By providing quantification information of significant brain areas to medical workers, it helps diagnose major degenerative brain diseases, such as mild cognitive impairment, Alzheimer's dementia, and vascular dementia. The product recently entered the medical care benefits system by winning the recognition of the Health Insurance Review and Assessment (HIRA) for 3D MRI imaging and reading used for brain MRI tests.
Copyright © KBR Unauthorized reproduction, redistribution prohibited