Kolon Pharmaceutical has voluntarily canceled the approval for Comiflu, a prescription flu medicine, after causing a controversy about whether its drug distribution to a daycare via a donation group without a doctor's prescription was illegal.
The Ministry of Food and Drug Safety said the permit for Kolon Pharmaceutical's Comiflu (ingredient: oseltamivir phosphate) has been nullified as of Tuesday because Kolon did not seek to renew the approval five years after winning the nod on June 21, 2017.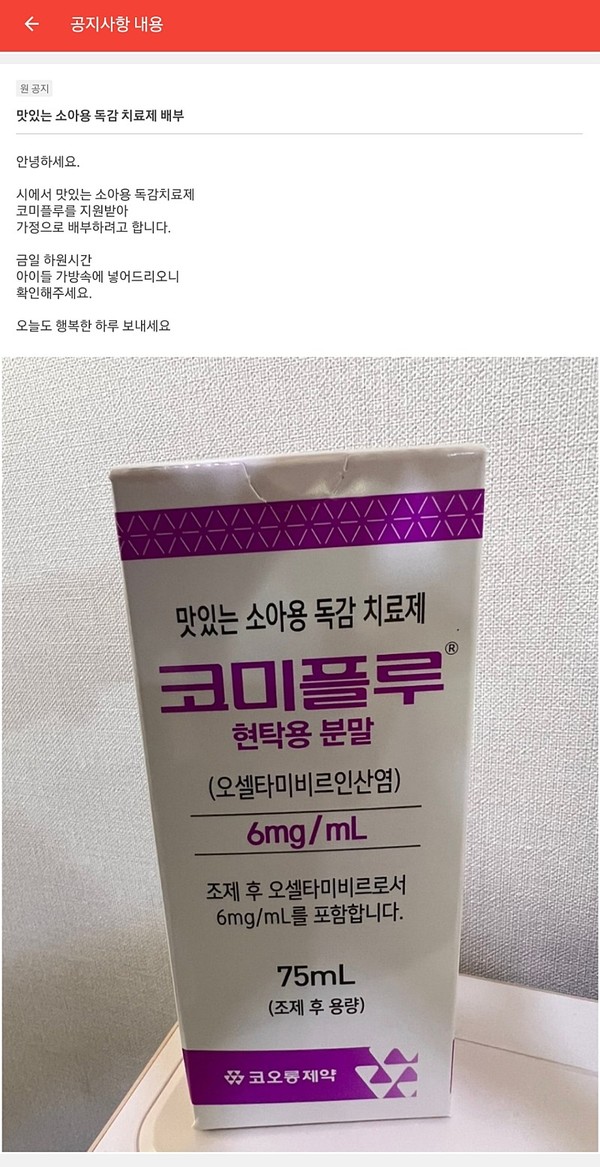 Under the MFDS' drug approval renewal system, a pharmaceutical firm must renew drug approval every five years by submitting related data to the issuer of the approval -- MFDS or its provincial branch – six months before the deadline.
Kolon manufactures Comiflu at a factory in Daejeon.
The ministry said that the annual output of Comiflu has declined from 4.3 billion won ($3.3 million) in 2018 to 800 million won in 2020.
If a drug does not generate much revenue or is not produced, a drug company voluntarily withdraws a drug license by letting the five-year license expire.
The voluntary cancellation of the Comiflu permit drew attention because Kolon was recently mired in an illegal drug distribution controversy.
Last month, the regulator started investigating Kolon Pharmaceutical due to the illegal distribution of Comiflu to a daycare via a donation group without a doctor's prescription.
The MFDS also conducted an on-site inspection on Kolon to check whether it retrieved the illegally distributed medicines.
According to the Korea Pharmaceutical Association's investigation, Korea Love Sharing Community, a donation group, doled out the prescription drugs to the local government and an educational institution instead of medical institutions.
Kolon argued that the donation group, not the company, distributed the drug to the unappropriated place. The company said its drug donation was legally legitimate.
The MFDS had earlier said it would instruct the local government to investigate whether Kolon's drug donation was permitted under the Pharmaceutical Affairs Act. Attention is now on the ministry's investigation results.
Copyright © KBR Unauthorized reproduction, redistribution prohibited