Doctors operating obstetrician and gynecologist (OB/GYN) clinics expressed outrage Monday toward MSD Korea's decision to raise the price of Gardasil 9, a vaccine to prevent cervical cancer, in the second half, following a similar price hike last year.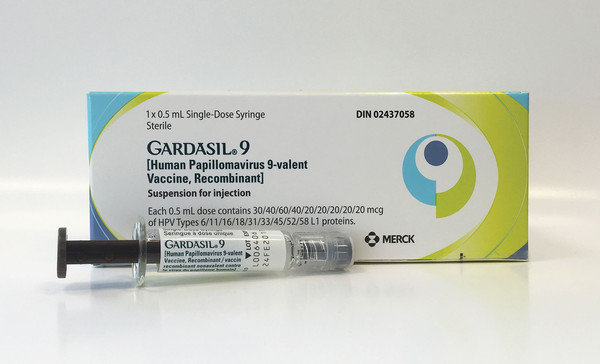 On May 9, MSD Korea decided to increase the supply price of Gardasil 9 by 8.5 percent from July 1 and started notifying hospitals and clinics of the price change.
MSD Korea stressed that the company evaluated the product's price adequacy annually to continue developing and supplying innovative drugs and vaccines.
"Our price policy reflected the evaluation result," the company said. "The global demand for human papillomavirus (HPV) vaccines expanded over several years, and the company is investing considerable capital in expanding production facilities to meet the demand."
According to the Health Insurance Review and Assessment Service (HIRA)'s statistics on uninsured medical expenses, the average cost of a single immunization with Gardasil 9 is 210,000 won ($162) at hospitals and clinics. However, since patients require three vaccinations, the cost swells to 630,000 won.
If MSD pushes ahead with the 8.5 percent increase rate, the inoculation cost will increase by 50,000 won.
MSD Korea raised the price of Gardasil 9 by 15 percent in April last year.
As the multinational pharma raised the price of its cervical cancer vaccine for two consecutive years, health experts pointed out that MSD Korea is using Gardasil 9's monopoly position to increase the burden on patients.
"The burden on consumers has increased significantly due to the unilateral increase in supply prices by pharmaceutical companies," the Korean Association of Obstetricians and Gynecologists President Kim Jae-yoo said. "It is also unfortunate from the doctor's point of view. Therefore, we feel the need to work out a countermeasure."
Many OB/GYN physicians criticize the price hike for Gardasil 9 as a case of abuse of its monopoly position in the market, considering legal countermeasures, Kim added.
Doctors running clinics also criticized MSD Korea's decision.
"In the end, it is entirely up to the medical institutions to bear the burden of the price hike," a doctor running an OB/GYN clinic said to Korea Biomedical Review Wednesday, asking to remain anonymous due to the sensitivity of the issue. "We will find it difficult to explain the sudden increase in financial burdens to patients who have received initial vaccination at the previous price."
Another OB/GYN doctor agreed. "The price hike does not mean that the doctors will also financially benefit," the doctor said. "Because the supply price of the vaccine is rising, doctors also buy it at a higher price and provide it to patients."
On the contrary, she added that if sales increase due to an increase in the unit price of supply, there is a possibility of receiving disadvantages.
The doctor explained that consumers might misunderstand that the price hike means more margins for doctors, reiterating that explaining the situation to the patients would be difficult.
"Companies have only to announce a price increase, but medical institutions have to deal with all the chaos," she said.
Others pointed out a different problem, saying that some patients have paid the vaccination fee for all three injections.
"I know that a lot of hospitals receive the vaccination fee for all three inoculations in advance, but if the price of the drug rises, it becomes very hard to demand additional payments," the doctor said. "It has been difficult for a pharmaceutical company to notify a price hike in the past unilaterally."
However, the doctor noted that because of the monopoly structure that Gardasil 9 has secured, MSD Korea is running a one-sided tyranny system.
Some experts pointed to other concerns that the price hike would lead to a supply shortage of Gardasil 9 because some hospitals and clinics had ordered large-scale batches during last year's price hike.
MSD Korea hit back, saying such an event would unlikely happen as it had already noticed the price hike plan two months earlier so that hospitals and clinics could prepare for it sufficiently.
Gardasil 9 is a vaccine used to prevent human papillomavirus (HPV) infection, which causes cervical cancer, and is the only vaccine that can prevent nine HPV types, including the four HPV types included in Gardasil 4, MSD's initial cervical cancer vaccine. However, unlike Gardasil 4 and GSK's cervical cancer Cervarix, the National Immunization Program does not reimburse Gardasil 9. For this reason, frontline hospitals and clinics are providing vaccinations without reimbursement.
Despite the lack of reimbursement, the Gardasil 9 sales have grown significantly since its launch in 2016, dominating the Korean private cervical cancer vaccine market.
According to IQVIA, a drug market research firm, the prescription amount of Gardasil 9 has grown dramatically from 2.5 billion won in 2016 to 20.8 billion won in 2018 and 42.8 billion won in 2020. In comparison, GSK's Cervarix, Gardasil 9's only competitor, saw a decline in sales from 7.6 billion won in 2016 to 3.2 billion won last year.
In 2020, MSD's Gardasil 9 accounted for 76 percent of the market share, followed by Gardasil 4's 19 percent and Cervarix's 5 percent.
Copyright © KBR Unauthorized reproduction, redistribution prohibited