For the first time since the outbreak of Covid-19, a large group of international travelers will visit Korea to enjoy Korean healthcare and wellness services.
Korea Tourism Organization (KTO) said around 800 people from Mongolia and Kazakhstan would visit Korea for medical and wellness care in group tourism from Wednesdays to September.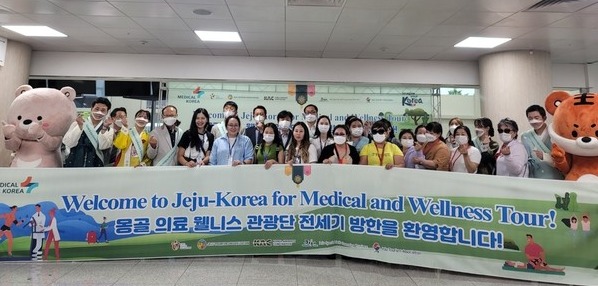 On Wednesday morning, the first group of 150 Mongolians arrived at Jeju Airport, KTO said. The visitors will get health checkups for five days at Jeju Jungang Hospital, We Hospital, Cheju Halla General Hospital, and Hankook General Hospital. They will also visit wellness tourist sites.
Other Mongolian tourists will arrive on Jeju Island via five chartered planes in July, August, and September. Each plane will carry about 140 people.
From Kazakhstan, over 100 travelers will land in Korea in July to get health screening or receive consultations in dermatology, plastic surgery, and orthopedic surgery.
"These people are those who had experienced medical treatment in Korea or have personally booked additional treatment, and those who are interested in Korean culture and have decided to visit Korea because they trust Korean medical technology," an official at the KTO's Ulaanbaatar office.
Park Yong-hwan, leader of the KTO's Medical Wellness Team, said the latest visit by Mongolian and Kazakhstani would signal to restore medical and wellness tourism to the pre-pandemic levels within two or three years.
According to Park, the number of travelers visiting Korea for healthcare used to stay at around 500,000 annually until 2019 but sharply fell to 130,000 last year due to Covid-19.
"KTO will actively conduct promotional marketing through online and offline exhibitions and briefings in major target markets to increase the number of medical tourists," he said.
Copyright © KBR Unauthorized reproduction, redistribution prohibited