Roche has been pursuing "agile transformation" to make the organization and business operation speedy and flexible.
Roche Korea, the Korean offshoot of the Swiss multinational healthcare company, followed suit and introduced a new business model last year to help provide patient/client-centered care.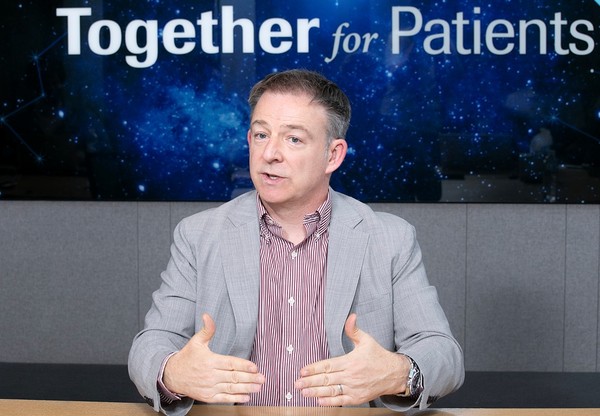 As a result, the agile transformation prompted Roche Korea to obtain approval and reimbursement for innovative medicines such as tumor-agnostic therapy and immunotherapy this year.
Under the "One Roche" strategy, the company works with Roche Diagnostics Korea to offer customized treatment for individual patients. In addition, it makes efforts to help bring about a more efficient and sustainable healthcare system in Korea.
Korea Biomedical Review sat down with Nic Horridge, president of Roche Korea, who has been leading the company since 2018, learning about the outcomes of the agile transformation policy, One Roche strategy with the diagnostics unit, and his views on the Korean healthcare environment.
Question: Two years have passed since Roche Korea introduced agile transformation. What kind of changes did it bring?
Answer: Through agile transformation, Roche Korea reduced the time and procedures for decision-making to listen to clients' voices carefully and respond to them swiftly. We empowered individual employees or small teams to make their own decisions.
The agile transformation made us evolve into an organization that forms teams based on treatments or patient groups, identifies the needs of patients, and makes optimal decisions.
We had to figure out how diagnosis and treatment were in areas unfamiliar to Roche – such as Alzheimer's disease and ophthalmic diseases. But, since the agile transformation, we could learn about them and develop a business strategy quickly.
Q: I heard that some executives and employees, who contributed to Roche Korea's growth for a long time, left the company because of the agile transformation.
A: In hindsight, some people said our new business model was not right for them. We talked openly about this, but we had to part with some employees looking for new opportunities.
But I take this positively because those who worked with Roche Korea continue to contribute to advancing the healthcare industry in other places. Also, during this process, young employees could become new leaders and give new views that help achieve Roche's visions.
Q: What achievements did Roche Korea make through the agile transformation?
A: We are building a system at major Korean hospitals to provide personalized healthcare based on molecular tumor board (MTB) results. This is the result of the agile transformation that prompted each team to think for themselves about what each hospital needed.
Our company's revenue grew about 30 percent in 2021 compared to 2020. This signals that the number of patients benefiting from Roche's medicines and services increased by about 30 percent compared to the period before the agile transformation.
The criteria to evaluate the outcome of the transformation include the question, "Does it provide sufficient value to the Korean healthcare ecosystem." Based on this, Roche maintains close relationships with healthcare experts and key health policymakers and makes an effort to provide solutions for patients' healthy lives.
Q: The global headquarters of Roche is implementing the "One Roche" strategy. What is it, and which stage is Roche Korea in?
A: The pharmaceutical and diagnostic units have business strategies and produce results in their respective fields. But in some areas, the work of the two divisions may overlap. In this overlapping area, we found an opportunity to create synergy through cooperation between the two business units.
For example, to treat ALK-positive non-small cell lung cancer (NSCLC), Alecenza was used as a treatment, and Ventana was used as a companion diagnostic to detect the disease. For this, the two business units collaborated.
Still, One Roche does not mean combining the two units physically. Instead, the two units have different business models and tasks so that they will remain separated.
We are looking for opportunities to create synergy in various diseases that require the combination of diagnosis and treatment, such as Alzheimer's and ophthalmic diseases. To do so, the leaders of the two units are working together steadily.
Q: You took office as head of Roche Korea four years ago. Can you tell us about your impressions of the Korean healthcare environment and if there is anything you want to see in the new government as the head of a drugmaker?
A: During my tenure in office, we faced an unprecedented pandemic, bringing many changes in our daily life and work. Fortunately, thanks to the Korean government's excellent leadership, the nation was less hit by the pandemic than neighboring countries. This was very impressive.
I have great expectations for the new government's pursuit of healthcare policies. Because Roche is developing or owing innovative drugs for many rare and severe diseases, we welcome the government's will to improve access to new drugs.
Statistics show that Korean patients had access to only 35 percent of new drugs, significantly low compared to 87 percent in the U.S., 59 percent in the U.K., and 51 percent in Japan.
It takes 601 days on average for a drug to win reimbursement in Korea, and only 20 percent of the drug costs come from new drugs.
At a level that does not affect the national finance and the total drug cost, there should be a way to increase access to innovative medicines. We will do our best to support the government's healthcare policy.
Q: Increasing the government's expense for innovative drugs will be possible when prices of patent-expired original drugs go down. Do you agree with this, as the leader of Roche Korea that had patent expiration of blockbuster drugs such as Herceptin and Avastin?
A: The most important driver for Roche's growth is "innovation." Innovation results from continued investment, despite failure to generate profit for decades or failure in clinical trials.
Roche Group is investing more than $16 billion, or 20 percent of the total sales, in R&D. This proportion is the highest among pharmaceutical firms and ranks within the top 20 in all industries.
To feel rewarded for efforts and investments, we need consistent recognition. That way, there will be room for improvement in the treatment environment. Even if an original drug's patent expires, it can pave the way for other companies to produce generic copies efficiently.
This is meaningful itself. As long as we can reasonably cut the price of original drugs after patent expiration, we can make conditions for other innovative drugs to enter the market in a virtuous cycle.
Copyright © KBR Unauthorized reproduction, redistribution prohibited