A health expert recommended using pneumococcal vaccines, including Pfizer's, for Covid-19 patients, noting that respiratory infection causes most of the hospitalization of those who developed sequelae even after a full recovery.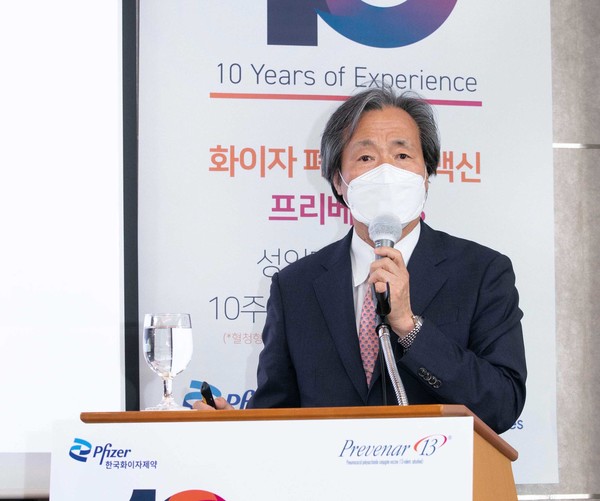 The World Health Organization defines long Covid as cases that begin within three months of the onset of the disease, with patients showing symptoms for at least two months and their illness unexplainable by another diagnosis. There are about 200 aftereffects, including headache, cognitive decline, fatigue, shortness of breath, hair loss, depression, anxiety, palpitations, menstrual cycle fluctuations, and muscle pain.
"A lot of patients in Korea and abroad complain of long Covid," Professor Jung Ki-seok of the Department of Pulmonology at Hallym University Sacred Heart Hospital said during a press conference held by Pfizer Korea on Tuesday. "As many doctors expect another Covid-19 outbreak this winter and severe cases due to the long Covid may leave the patient in short of breath for a lifetime, we need to prepare."
According to Professor Jung, there are reports and research that the risk of long Covid is greater in people with underlying respiratory diseases and older people.
"A foreign study shows that the risk of long-term Covid-19 is 4.4 to 4.5 times higher for Covid-19 patients aged 45 to 69 years old," Jung said. "The number one reason for the hospitalization of patients due to sequelae from Covid-19 is respiratory infections, of which pneumonia is the most common."
A survey of 98 people hospitalized for pulmonary complications more than five weeks after testing positive for Covid-19 indicated that respiratory infection was the number one reason for hospitalization.
Among them, pneumonia accounted for 77.2 percent, Jung noted.
Professor Jung stressed that secondary infection with pneumococcus also increases after respiratory viral infection.
"Covid-19 makes the colonization of pneumococci easier by changing the microenvironment, such as damage to the cell epithelium and abnormal immune function regulation," he said. "Pneumococcus has a high number of deaths and mortality rates and cases are increasing yearly."
Due to such dangers, Jung explains that the U.S. Centers for Disease Control and Prevention also recommended pneumococcal vaccination for patients who have suffered from Covid-19. In addition, the Netherlands and Spain also recommended that patients who complain of chronic symptoms or are hospitalized due to Covid-19 receive a pneumococcal vaccine.
"Korea also needs to consider pneumococcal vaccination in Korea actively," Jung said.
In Korea, there are two types of pneumococcal vaccine for adults -- 13-valent protein conjugate vaccine and the 23-valent polysaccharide vaccine.
"Among the serotypes included in the 13-valent protein conjugate vaccine, especially the trivalent and 19A serotypes are still the most common causes of invasive pneumococcal disease in adults," Jung said. "Therefore, there have been reports that the elderly and chronically ill patients need individual 13-valent protein conjugate vaccines."
He added that the most effective method for preventing pneumococcal community-acquired pneumonia for adults aged 65 to 74 years is sequential vaccination with a 13-valent protein conjugate vaccine and a 23-valent vaccine.
Jung stressed as patients only need to get the pneumococcal vaccine once in their life, he recommends patients get it as soon as possible or receive the vaccine along with an influenza vaccine in the fall.
Kim Hee-jin, Pfizer Korea's managing director for the vaccine business, also said, "For the past decade, Pfizer Korea's vaccine division has been working hard to raise awareness of the pneumococcal disease among adults through our pneumococcal vaccine, Prevenar 13.
However, the true heroes are public health experts and front-line medical staff, Kim stressed, adding that Pfizer Korea would continue to take the lead in eradicating pneumococcal disease with medical staff and strive to improve public health.
Copyright © KBR Unauthorized reproduction, redistribution prohibited