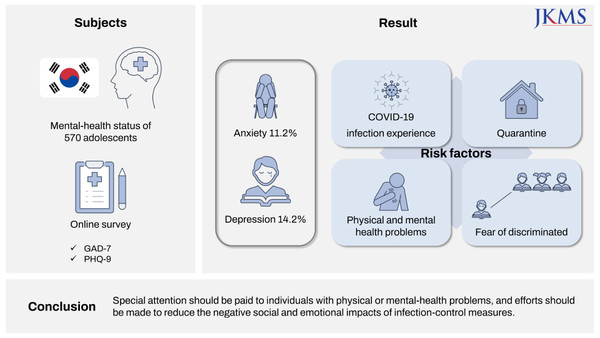 The stigma of one's local community being discriminated against as a Covid-19 infection area affected the mental health of adolescents negatively, a study found.
The National Medical Center's research team released their study, "Factors Related to Anxiety and Depression Among Adolescents During COVID-19: A Web-Based Cross-Sectional Survey," in the Journal of Korean Medical Science.
The research team conducted a nationwide online survey on 570 adolescents aged 13-18 between May 27 and June 11, 2021, to evaluate their mental health status.
Among the respondents, 280 were male, 290 were female, and 229 were aged 16 or more. Among the 570 participants, 38.6 percent or 200 had experience with Covid-19 infection.
In the survey, the research team used the Generalized Anxiety Disorder Scale (GAD-7) and Patient Health Questionaire (PHQ-9) to measure anxiety and depression. Readings at 10 or higher were judged to have anxiety and depression.
The research team asked 30 questions in seven domains, such as demographic characteristics of the participants like age, sex, region of residence, Covid-19 infection history, fear of infection, perception about infected people, time spent on online activity, and daily stress, and Covid-19's disruption levels.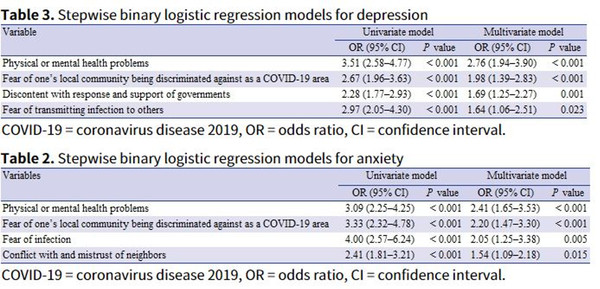 The results showed that 11.2 percent and 14.2 percent of the respondents felt anxious and depressed, respectively.
Their anxiety and depression were commonly related to the "fear of one's local community being discriminated against as a Covid-19 area" and "physical and mental problems."
The teenagers' anxiety stemmed from fear of infection and distrust of others who might infect them. In addition, the study showed that the adolescents were depressed because they were unhappy about the government's quarantine measures and were afraid that they could transmit the virus to others.
"In this study, the fear that they could be discriminated against just because their local community was a Covid-19 area was the cause of anxiety and depression in adolescents," the research team said.
The research team noted that in an earlier study conducted in Daegu, where the number of confirmed cases was high early in the pandemic, the prevalence rates of anxiety and depression in adolescents were 12.3 percent and 19.8 percent, respectively, which are higher than those in the latest study.
The research team also cited another study of adolescents, saying experiencing discrimination can lead to feelings of depression and alienation, school maladjustment, and poor academic performance.
"To improve the mental health of adolescents during the Covid-19 pandemic, efforts should be made to reduce the negative social and emotional impacts of infection control measures," the research team concluded.
Copyright © KBR Unauthorized reproduction, redistribution prohibited