Samsung Biologics said it would participate in the world's largest biopharmaceutical exhibition, "2022 BIO International Convention," from June 13-16 in San Diego, Calif., organized by the Biotechnology Innovation Organization.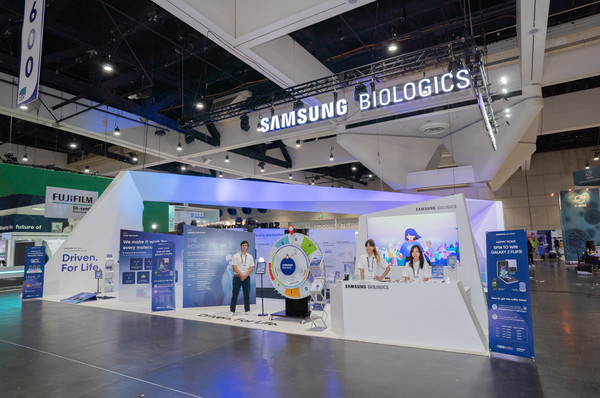 BIO holds the annual event in major U.S. cities with bio-clusters, providing a venue for exchanges in the biopharmaceutical industry.
The event will be held offline for the first time in three years, and Samsung Biologics installed a large booth befitting the world's largest biopharmaceutical producer. Samsung Biologics has a production capacity of 620,000 liters, including its fourth plant (256,000 liters), scheduled to start partial operation this year, accounting for 30 percent of the world's contract manufacturing organization (CMO) production.
According to its press release, the booth's theme is "Infinite Possibilities," expressing Samsung Biologics' unlimited growth potential through expanding production capacity, portfolio, and geographic bases.
Samsung Biologics demonstrates its end-to-end services from the early stages of biopharmaceutical development to commercial production by using lighting that detects and responds to visitors' movements on the booth wall. The booth also provides kiosk and virtual reality (VR) factory tours and meeting rooms to engage customers efficiently.
The company also installed a "Sustainability Wall" in the booth to emphasize its plans to minimize its environmental impact despite high growth, reaffirming its commitment to leading the sustainable contract development and manufacturing organization (CDMO) industry.
Samsung Biologics plans to expand its contact with key figures in the biopharmaceutical industry through banners, company introduction videos, and active exchanges during the exhibition.
On the first day, Samsung Biologics will hold various events in the booth, starting with a welcome reception. After that, more than 2,500 industry officials will gather and exchange information.
On the second day, Samsung Biologics' Vice President, Pierre Catignol, will be on the panel to discuss mRNA's trends and marketing strategies.
On the final day, Samsung Biologics will sponsor, along with other global Big Pharma such as Genentech, for the main dinner event. More than 2,000 bio-pharmaceutical industry figures are expected to gather to discuss business partnerships in the industry.
Copyright © KBR Unauthorized reproduction, redistribution prohibited