Ipsen Korea said it aims to provide a better treatment option for Korean renal cell cancer patients with a Cabometyx and Opdivo combination therapy after receiving approval to use the treatment as first-line therapy.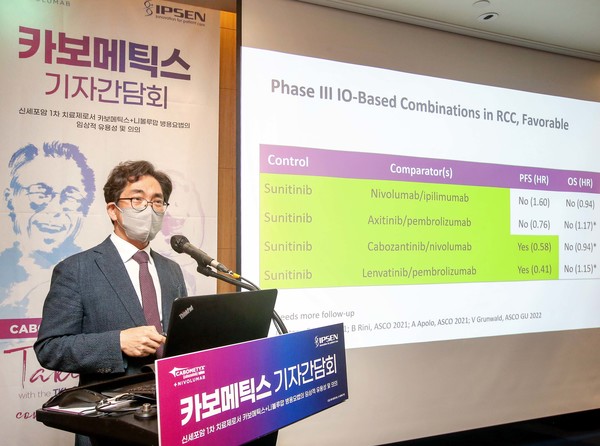 "Kidney cancer is a type of cancer difficult to detect at an early stage, and chemotherapy or radiation therapy is not effective," Professor Lee Jae-ryun of the Department of Oncology at Asan Medical Center said during a news conference held by Ipsen Korea on Friday.
Lee noted that recent studies on the combination therapy of several immunotherapies and targeted anticancer drugs had shown excellent results.
"Notably, the combination therapy of Cabometyx and Opdivo will become a standard treatment for patients with advanced renal cell cancer," Lee said. "The safety profile of the combination therapy was consistent with the established safety profile of the individual drug monotherapy."
Lee explained that the combination therapy had a notable improvement in patients' quality of life.
"I regularly see chemotherapy aimed at saving the life of patients, drastically reducing the patient's quality of life in the clinical setting," Lee said. "However, the CheckMate 9ER clinical trial, the basis for the treatment's approval as a first-line treatment, showed that the Cabometyx and Opdivo combo therapy was the only immunotherapy and targeted anticancer drug combination therapy to show superiority compared to the control group in quality-of-life data analysis."
Lee stressed that he expects the combination therapy of Cabometyx and Opdivo would be helpful for patients in an actual clinical setting.
Shin Dong-seok, Ipsen Korea's oncology drug business unit head, also said, "Cabometyx, which had achieved good results in the second or higher stages of renal cell carcinoma, is now able to provide effective treatment effects as a first-line therapy through combination therapy with Opdivo."
The company will do its best to lead the global standard in the first-line treatment of advanced renal cell cancer with Cabometyx so that Korean renal cell cancer patients can receive treatment in a better treatment environment, Shin added.
Cabometyx is a multi-target anticancer drug that inhibits not only three types of vascular endothelial growth factor (VEGF-1, 2, 3) receptors but also MET and AXL, which are receptors involved in angiogenesis.
The Ministry of Food and Drug Safety approved combining therapy with Opdivo, immunotherapy that inhibits PD-1 (immune cell surface protein), as a first-line treatment for patients with advanced renal cell carcinoma, on March 10.
The combo therapy has also received a recommendation as a first-line treatment for patients with advanced renal cell carcinoma in all IMDC (International Metastatic RCC Database Consortium) risk groups from the U.S. National Comprehensive Cancer Network, European Society for Medical Oncology, and the European Association of Urology.
Copyright © KBR Unauthorized reproduction, redistribution prohibited