The Catholic University of Korea's Industry-Academy Cooperation Corps. and Lucas Bio signed two patent transfer agreements on Wednesday.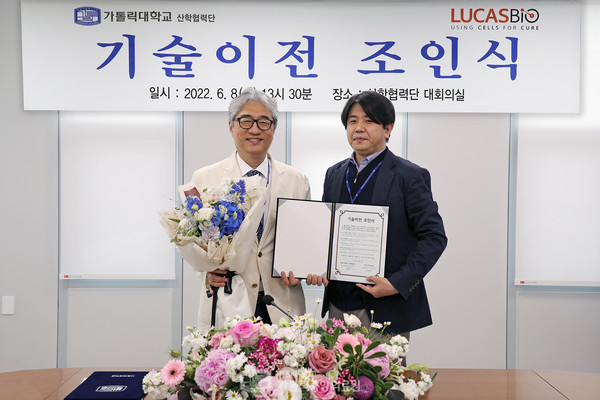 One of the two patent transfer agreements concerns a "composition to prevent or prevent B-cell lymphoma containing mesenchymal stem cells (MSCs) expressing IL-21, the university said.
Mesenchymal stem cells are obtained from the bone marrow, easily multiply through cell division and later differentiate into various cell types such as fat cells, cartilage cells, heart cells, muscle cells, and neurons. Consequently, they hold potential for tissue damage repair and treatment and exhibit immune tolerance and inhibitory effects in transplant and autoimmune disease models.
Inspired by the characteristics of these mesenchymal stem cells, the researchers conducted an immune cell therapeutic study by applying nucleotide sequences encoding the IL-21 (interleukin 21) gene and transforming growth factor- β (TGF- β), respectively.
IL-21 is a cytokine that has regulatory effects on immune cells, such as natural killer cells and cytotoxic T-cells that cause cell division and proliferation in target cells.
Firstly, the research team manufactured mesenchymal stem cells that overexpressed IL-21, tested them on various tumor cells, and found that only B-cell lymphoma showed strong apoptosis (programmed cell death). Secondly, mesenchymal stem cells with a nucleotide sequence encoding for TGF-β, increased regulatory T-cells and decreased Th17 cells compared to those without the growth factor.
The researchers registered this patent domestically and in the U.S. for B-cell lymphoma prevention or treatment compositions using mesenchymal stem cells expressing IL-21.
"This technology presents a treatment for incurable immune diseases that existing medical technologies have not overcome," Lucas Bio CEO Cho Seok-gu said. "We will try to develop it as a world-class medicine based on our experience building various cell therapy pipelines."
Professor Kim Tae-min, vice president of the Industry-Academy Cooperation Corps., said, "It is a valuable technology associated with advanced regenerative medicine that has recently been in the spotlight, and I hope it will help both institutions."
Lucas Bio has now obtained three patents from the Institute of Translation Research and Molecular Imaging. According to the university, it will obtain approval from the Ministry of Food and Drug Safety to conduct clinical trials in Korea to establish a pipeline for these three patents.
Copyright © KBR Unauthorized reproduction, redistribution prohibited