COPENHAGEN – Bristol Myers Squibb's deucravacitinib, a lupus treatment candidate, drew keen attention from global rheumatologists as the company unveiled the phase 2 study at the 2022 European Alliance of Associations for Rheumatology (EULAR) Congress Saturday.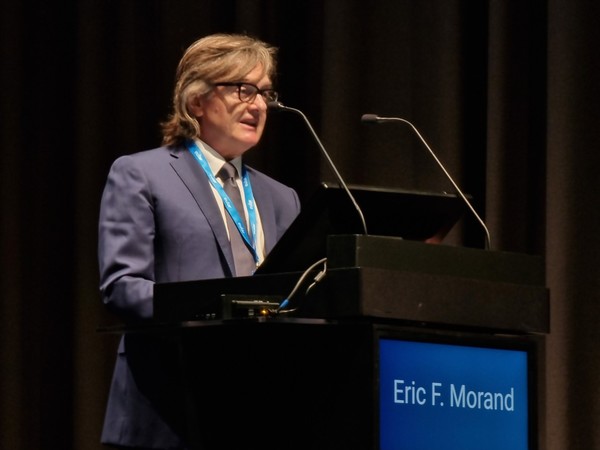 The phase 2 PAISLEY study evaluated deucravacitinib, an oral, selective, allosteric tyrosine kinase 2 (TYK2) inhibitor, compared to placebo in patients with moderate to severe systemic lupus erythematosus (SLE).
"The study met the primary endpoint of achieving SLE Responder Index-4 (SRI(4)) responses, a composite endpoint used in SLE clinical trials to assess disease activity, at Week 32," Professor Eric Morand of Monash University in Victoria, Australia, said during the late-breaking abstract presentation on Saturday. "However, the 12 mg once the daily group had numerically higher SRI (4) responses relative to placebo at 32 weeks, the results did not reach statistical significance on multiplicity adjustment."
Deucravacitinib also had the highest rate of adverse events for patients receiving 12 mg once daily, which may explain the relatively poorer performance than the 3 and 6 mg once a daily, Morand added.
According to the professor, some 18 percent of the 12 mg group discontinued because of poor efficacy or adverse events, compared with 11 and 9 percent of patients who received 3 and 6 mg.
"However, these patients were considered nonresponders for the efficacy analyses," Morand said. "Further support for why the 12 mg group showed no significant efficacy came from the lab analysis where a clear positive dose-response was seen for effects on anti-double-stranded DNA and C4, abnormal complement components."
Deucravacitinib achieved or meaningfully improved all secondary endpoints, including SRI (4), British Isles Lupus Assessment Group-based Composite Lupus Assessment (BICLA), Lupus Low Disease Activity State (LLDAS), a decrease of ≥50 percent from baseline Cutaneous Lupus Erythematosus Disease Area and Severity Index (CLASI-50), and change in the active joint count, at week 48.
"Deucravacitinib was also well-tolerated," Morand said. "Safety profile was consistent with earlier trials in psoriasis and psoriatic arthritis, and there was no evidence of laboratory abnormalities characteristic of Janus kinase (JAK) 1, 2, and 3 inhibitors."
Also, he added that while there was a numerical increase in cutaneous adverse events and nonserious infections, there was no increase in herpes zoster adverse events.
"There is an urgent need for new systemic lupus treatments as many as half of the patients may not respond adequately to current treatment options. " Morand said a new oral therapy has not been approved in decades," Morand said. "These clinically meaningful results represent a huge potential step forward in developing a new lupus therapy to help meet the immense need for patients living with this disease."
Professor Morand stressed that the phase 2 trial results show deucravacitinib as a promising novel therapy for SLE and warrants further investigation in phase 3 trials.
Professor Jung Jae-hyun of the Department of Rheumatology at Korea University Ansan Hospital agreed that if deucravacitinib successfully completes trials, it will be able to address the unmet need for SLE patients in Korea.
"The trial has real meaning as almost no drugs target lupus as the main indication in Korea," Professor Jung said when asked about the lecture on the sidelines of EULAR 2022. "Belimumab was the first to be released, and the rest of the drugs do not target lupus as the main indication."
An oral form of Lupus treatment is also a huge step in addressing the unmet need of lupus patients, Jung added.
Copyright © KBR Unauthorized reproduction, redistribution prohibited