COPENHAGEN -- A new analysis of the phase 3 clinical trial showed that Remsima SC (Ingredient: infliximab) made a significantly greater improvement in clinical outcomes compared to the intravenous (IV) in patients with rheumatoid arthritis (RA).
The post-hoc study focused on confirming whether the numerical advantage of Remsima was statically significant compared to Remsima IV in most efficacy parameters at weeks 30 and 54.
Celltrion used conservative imputation methods, such as non-responder imputation (NRI) and last observation carried forward (LOCF), in 343 patients randomized at week six in two treatment groups -- 165 patients who received Remsima SC 120mg bi-weekly and 174 patients who received Remsima IV 3mg/kg every eight weeks.
Results showed a statistically significant difference in favor of Remsima SC compared to IV-treated patients at week 30 in almost all clinical variables, including low disease activity rates and remission rates.
The company also confirmed that after switching at week 30 to Remsima SC, the proportion of RA patients achieving low disease activity rates or a good response, as measured by EULAR CRP, increased at week 54, suggesting improved responses after switching from IV to SC.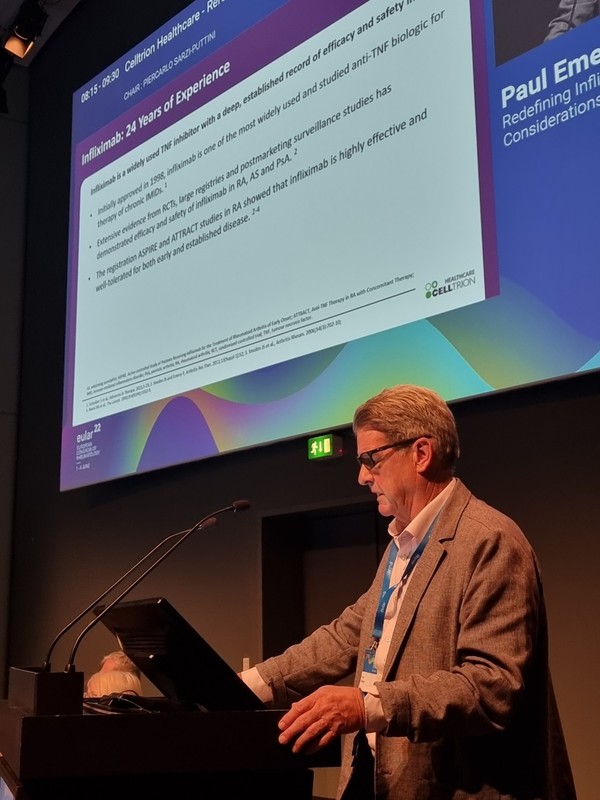 Meeting with Korea Biomedical Review on the sidelines of The 2022 European Alliance of Associations for Rheumatology (EULAR 2022) European Congress of Rheumatology, Professor Paul Emery, Versus Arthritis Professor of Rheumatology and Director of the Leeds Musculoskeletal Biomedical Research Centre, provided more in-depth knowledge of the meaning of the trial and how European health care professionals perceive biosimilars.
"Remsima SC has many advantages, such as not needing hospital-based infusions, improving drug levels leading to increased efficacy, and not resulting in additional side effects or antibody reduction against the drug," Professor Emery said.
He stressed that patients in the U.K. have little resistance to switching from a Remisma IV formulation to Remsima SC.
"There are two types of patients that will receive Remsima SC," Emery said. "Those who have received Remsima IV who do not have a problem switching to the SC formulation will not lose efficacy or see additional side effects. Those getting a new prescription do not have a problem with SC formulation."
Therefore, there is very little resistance from patients to switching to Remsima SC.
Professor Emery also explained the perception of biosimilars in the U.K. medical community.
"In the U.K., biosimilars are the norm as we prescribe them to almost all new patients," Emery said. "Over the past several years, the U.K. has switched nearly all the original drugs to biosimilars, which now account for 80-95 percent of all prescriptions."
He added that original drugs are only prescribed for illnesses with no biosimilars.
Emery stressed that the transition into biosimilars had been made with little resistance and a huge cost reduction.
However, the professor noted that during the transition, medical professionals in Europe were very concerned about the nocebo effect, in which a patient develops side effects or symptoms that can occur with a drug or other therapy just because the patient believes they may occur.
"We were very concerned about the nocebo effect when initially prescribing biosimilars," Emery said. "The patients often said to us that they don't mind taking a cheaper but less effective drug, and the initial patient consensus was that they were getting a lower grade drug." Health professionals resolved this issue by providing the patients with an option to switch back to the original drug if they wanted to and never forcing them to receive biosimilars.
Emery noted that health professionals wrote to all the patients explaining that there was no evidence that the biosimilars were less good.
"Of course, the truth is that no biologics drugs are identical. If a patient is well established on a drug, there is always a chance that the patient might not have the same reaction if they receive another biologic drug," Emery said. "However, once we switched the patients with biosimilar product, we saw very few patients who responded poorly to the biosimilar, and the cost-saving was enormous."
Despite such pros, switching to biosimilar products still requires efforts from the doctors, he added.
Asked what U.K. doctors look for in choosing a biosimilar product, Emery explained that the U.K. assumes that all biosimilars are equal because they are licensed as biosimilar to the original product.
"So when choosing which biosimilar to use, it is more about the biosimilar price," Emery said. "U.K. pharmacologists have a group that negotiates with companies, and they give a monopoly to the cheapest drug."
The negotiator has no assumption that any biosimilar is better than its competitors, and it's just a matter of the cost, he added.
However, Emery stressed that it is different if a biosimilar has a different form of administration, such as Remsima SC.
"This is because you can't compare directly between the two products," Emery said.
Copyright © KBR Unauthorized reproduction, redistribution prohibited