COPENHAGEN -- Celltrion aims to gain the upper hand in the fiercely competitive infliximab biosimilar market through direct selling Remsima SC, a top manager said Thursday.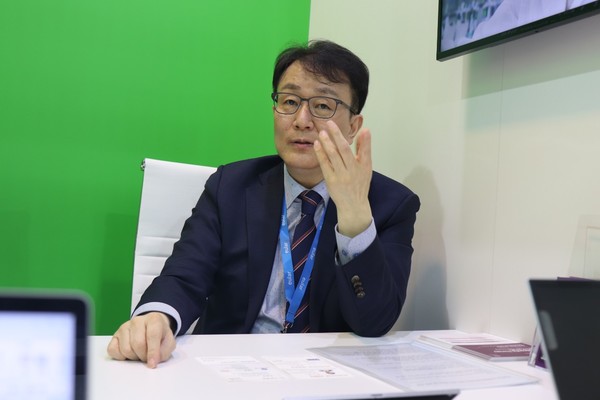 "Currently, competition for infliximab biosimilars is cut-throat," Celltrion Vice President Choi Byoung-seo said during an interview with Korea Biomedical Review on the sidelines of 2022 European Alliance of Associations for Rheumatology (EULAR 2022) European Congress of Rheumatology. "If we fail to come on top during these uncertain times, we will be eliminated from the market.
Choi stressed that this is why the company has decided to market Remsima SC directly in the EU without a distributor.
"While indirect sales through partners had advantages, it also had the disadvantage of not being able to control the market directly," Choi said. "Although we cannot disclose the exact figures, the company thinks it can secure additional margins that t had been paid to partners, better securing price competitiveness."
Choi also stressed that Remsima SC has managed to capture both convenience and accessibility.
"Remsima SC is safe for up to 30 days at room temperature," Choi said. "Therefore, we are emphasizing the product's safety compared to competing products."
Choi also explained the company's plans to launch Remsima SC in the U.S. market.
"The European and U.S. market is completely different as EU prioritizes lower drug prices than prescribers and stakeholders' preferences. In contrast, the U.S. allows a more flexible drug price," Choi said. "Notably, in the U.S., we can set the width of the rebate as we can determine the desired price."
In Europe, bidding prices tend to become very low as sales prices must be low. Therefore the net price of the treatment will be higher in the U.S. even if we exclude the rebate, Choi added.
Asked how competitive Remsima SC is against original products manufactured by multinational pharmaceutical companies, Choi noted that many believe that multinational pharmaceutical companies will sign a contract with the original and biosimilar together when supplying biosimilars. However, from an insurance company's point of view, there is no need to contract for the original and biosimilar with the same rebate percentage.
"Therefore, we can sign a separate contract," Choi said. "After all, Remsima SC is entering the competition between biosimilars, making the treatment highly competitive."
The U.S. launch of Remsima SC is scheduled to take place in 2024 after the bevacizumab biosimilar, adalizumab biosimilar, and ustekinumab biosimilar in 2023, Choi added.
Choi noted that the company would also directly sell its biosimilars, including Remsima SC, in the U.S.
"Preparations are being made before approval, and strategies are being established for prescribers," Choi said. "The preparations and consultation have been completed to some extent."
'It will not be easy for other Korean companies to sell their products abroad directly'
Choi explained that after Celltrion introduced the biosimilar business model in Korea, many companies are trying to follow in its footstep.
"However, I think it will be difficult for them to sell their products directly as it is very risky," Choi said. "I think Korea is a country that leads biosimilars in their development stages."
However, it is difficult to sell developed products indirectly, and it will be far more difficult for companies to set up a direct sale platform, Choi added.
In that sense, Choi explained that Celltrion had established a new successful business model.
"Biosimilars are a device industry," Choi said. "If production capacity does not keep up, even if a company indirectly sells its product, it is difficult to maintain its margin."
Although Samsung provides a contract manufacturing organization (CMO) service to alleviate some of the burdens, it is questionable how long Korean bio ventures will be able to produce their products through CMO, Choi added.
Copyright © KBR Unauthorized reproduction, redistribution prohibited