COPENHAGEN – The 2022 European Alliance of Associations for Rheumatology (EULAR 2022) European Congress of Rheumatology kicked off its 75th Scientific Assembly and Annual Meeting in Copenhagen, Denmark, on Wednesday.
After two years of an online-only event due to the Covid-19 pandemic, EULAR has decided to hold its annual congress in a hybrid format, accepting onsite and virtual participants.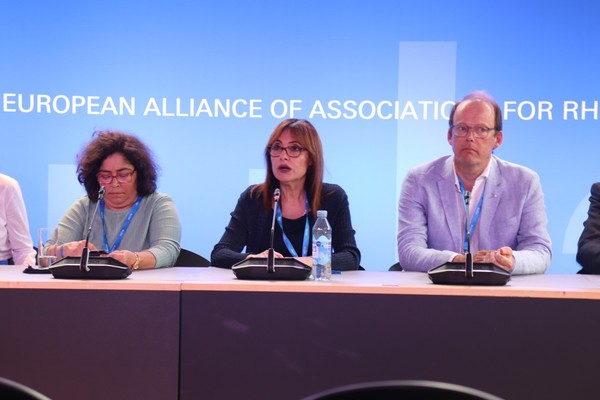 "This is a very important congress for us, as it is the first hybrid congress ever for EULAR," EULAR President Annamaria Iagnocco said during a meeting with reporters. "Because of the Covid-19 pandemic for the last two years, we had a limitation in securing a venue, and we had to offer the congress completely online."
Iagnocco stressed that the field of rheumatology also faces significant challenges moving forward.
"There are still disparities in access to rheumatology, and we must position the treatment field as an important illness," Iagnocco said. "To accomplish this, EULAR aims to make the field of rheumatology visible to policymakers and the rheumatic or autoimmune diseases patients who lack treatment opportunities."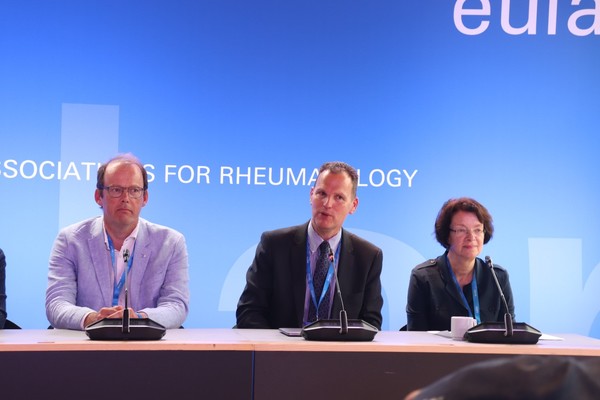 During the meeting, Professors Iain McInnes, director of the Institute of Infection, Immunity, and Inflammation at the University of Glasgow, and Dirk Elewaut, EULAR Research Chair, shared EULAR's new initiatives to unite the EU's capabilities to treat patients better.
"Europe has 120 million patients suffering from rheumatic musculoskeletal disease," McInnes said. "Rheumatic musculoskeletal diseases, the commonest cause of work loss and disability, have more than 200 medical conditions for which there is currently no cure."
While the field has had a great two decades of new medicines and progress, McInnes added that there is still much to do.
McInnes stressed that as part of EULAR's new initiatives, the association plans to establish a EULAR research center, which aims to bring equity of access to world-class research and quality of research on rheumatic musculoskeletal diseases concerning trials and other investigations across the EU.
"Europe currently has an unequal distribution of research productivity, and we believe that the new research center will be the solution," McInnes said. "The research center will offer research consultation services to rheumatologists and healthcare professionals across the EU, who do not have access to the immediate resource to support research by matching them with experts."
McInnes also stressed that the research center would aim to resolve the desperate need for data and, more importantly, the processing and understanding of data.
"We are launching a new Europe-wide database through the research center, and the data will be contributed by our patients and will describe the symptoms that impact their quality of life," McInnes said. "We will follow them every six months as long as the patients are prepared to contribute such data."
The database already has thousands of people contributing. The association has learned that the data provided by people directly affected by illness can be hugely impactful, especially during Covid-19, McInnes added.
As a result, McInnes stressed that they would extend this model over the next five to ten years to create a world-class database to inform the unmet needs and the critical questions that must be answered to bring remission and cure to our patients.
"A second key initiative is calling Rheumafacts, like an encyclopedia that will serve as a common landing ground that provides the necessary information to the media and health experts," McInnes said. "Such information will include how many people have the disease? What are its symptoms? How many people are disabled? How many people are not working?"
Rheumafacts will gather all of the information and become a common, openly accessible resource, McInnes added.
Professor Elewaut also explained EULAR's intention to establish a European Clinical Trial Center under the umbrella of EULAR.
"We want to harmonize bringing new medicines to our patients and finding new ways to treat them faster," Elewaut said. "Therefore, we want to set up centers that can conduct clinical trials based on expertise and knowledge."
He added that the idea is to bring new ways of treating patients earlier and harmonize this across Europe.
Copyright © KBR Unauthorized reproduction, redistribution prohibited