Genome Insight CEO Ju Young-seok received the Human Genome Organization's (HUGO) Chen Award of Excellence.
HUGO awards the Chen Award of Excellence annually to two young scientists who have extraordinary work or suggested a new treatment in human genomics.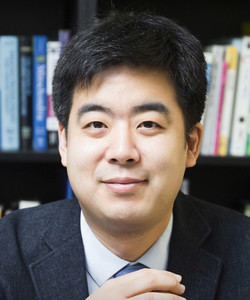 Ju, a professor at the Korea Advanced Institute of Science and Technology (KAIST), is the second Korean to win the award after V. Narry Kim, a professor at Seoul National University (SNU).
Ju was selected as the 2020 Chen Award of Excellence recipient, but the awarding ceremony was postponed due to the Covid-19 pandemic. Ju received the award on Tuesday.
"This is a second winning award as a Korean, and I am honored. I will strive to advance whole-genome sequencing (WGS) and the related industry," Ju said at the awarding ceremony.
Ju will have a chance to present a lecture at the Human Genome Meeting, hosted by HUGO, in Tel Aviv, Israel.
Ju is a physician-scientist who graduated from SNU College of Medicine. He serves as a professor at the Graduate School of Medical Science and Engineering at KAIST.
In January 2020, Ju and another physician-scientist, Lee Jeong-seok, co-founded Genome Insight.
Genome Insight specializes in analyzing and interpreting WGS big data, designed to provide accurate diagnosis and customized treatment for cancer and rare diseases caused by genetic mutations. The company is headquartered in San Diego in the U.S., and its R&D center is located in Seoul and Daejeon, Korea.
A Taiwanese physician-scientist established Chen Award, Yuan-Tsong Chen.
Chen is director of the Institute of Biomedical Sciences at Academia Sinica, Taiwan, and a professor of pediatrics and genetics at Duke University Medical Center, the U.S.
HUGO also gives Chen Award for Distinguished Academic Achievement in Human Genetic and Genomic Research to one scientist who made an outstanding performance in human genomics. The awardee gets $10,000. In 2017, SNU's Kim won the award as the first Korean.
HUGO also awards the Chen Award of Excellence to two young scientists with a monetary award of $5,000 each. One award goes to a person residing outside Asia and the other to someone residing in Asia whose career years have not passed 15 years since receiving their highest earned degree.
HUGO is a non-profit international organization established in 1988. It conducts international academic exchanges and builds a joint research database. It played a crucial role in the Human Genome Project completed identifying all the nucleotide sequences of the human genome in 2003.
Copyright © KBR Unauthorized reproduction, redistribution prohibited